Goldman Sachs Workers Take One for the Team
by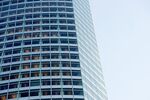 A plum job at Goldman Sachs is looking just a bit less rich today. The storied bank said it added 500 positions in the past year while cutting back on the amount it set aside for compensation.
A fine-tuned algorithm isn't required to figure out what that means for the average Goldman analyst or M&A banker. On a per-worker basis, the salary discipline equates to a 4 percent pay cut—from $399,506 per employee in 2012 to $383,374 last year.
Sanford Bernstein analyst Brad Hintz told the New York Times that no other bank is showing that level of restraint on incentives.
On Wall Street, the risk of HR frugality is a wave of defections. But that's particularly unlikely at Goldman this year. For one thing, it has a greater share of its employees in such places as Utah, which, unlike Manhattan, London, or Geneva, has cheaper living costs.
And the belt-tightening, of course, won't be shared equally. Rest assured, the road-show bankers who made it rain with the Twitter initial public offering will be picking out their beach houses and Bentleys.
Finally, given Goldman's surging stock price, its employees are sitting on a pile of paper gains. According to some number-crunching by the Wall Street Journal, Goldmanites paid in restricted stock realized a $600 million windfall in 2013, though they might not be able to unlock those shares for years.
In the recent quarter, a surge in IPO fees helped offset a slump in bond-trading revenue, according to a financial update this morning. The company posted $2.3 billion in profit, down from $2.9 billion in the year-earlier period.
Before it's here, it's on the Bloomberg Terminal.
LEARN MORE