Egypt Overwhelmingly Backs New Charter, Early Results Show
Tarek El-Tablawy, Salma El Wardany and Mariam Fam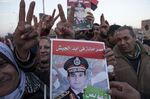 More than nine-tenths of Egyptians who voted in this week's referendum supported a new constitution endorsed by the army-backed government, according to initial results, as an Islamist boycott lowered turnout.
The two-day referendum marked the first major milestone of the government's declared plan to restore democracy following the military's July 3 ouster of President Mohamed Mursi of the Muslim Brotherhood. The charter, drafted by a panel dominated by secularists, is meant to replace a constitution approved under Mursi and written by a mostly Islamist committee. Presidential and parliamentary elections are to follow later this year.
Early indications from many polling stations suggest turnout within a range of 25 percent to 50 percent, with approval rates of between 92 percent and 97 percent, the state-run Middle East News Agency reported, without giving further details. The election committee said official results will be announced at a press conference at 6 p.m. on Jan. 18.
Analysts and local media said broad backing for the document and a high turnout may encourage a presidential bid by Defense Minister Abdelfatah al-Seesi, who led Mursi's ouster and has since become a lionized figure in Egypt.
'Strong Leader'
"These results would provide al-Seesi with the approval he was looking for to run for presidency," Anthony Skinner, director of Middle East and North Africa at Maplecroft, a U.K.- based research and forecasting company, said by phone. Many Egyptians are tired of unrest and "want a strong leader."
The government billed the approval of a new constitution as a key step toward stability and economic recovery, reasons many voters gave for backing the document. The Brotherhood, violently suppressed by the government since July, dismissed it as an attempt to legitimize a military coup, and boycotted the vote.
At least nine people were killed on the first day of voting as Mursi supporters clashed with security forces deployed at poll stations throughout the country. Critics of the draft constitution, including secular activists as well as Islamists, accused the government of suppressing the "no" campaign.
Egypt's benchmark stock index fell 0.8 percent, paring its gain this year to 5.3 percent. Yields on one-year debt sold today retreated 19 basis points to 10.81 percent.
Adoption of the charter may not end Egypt's turmoil, Skinner said.
"Instability could persist in the longer term if the establishment doesn't take a more inclusive approach," he said. "You cannot completely exclude the Muslim Brotherhood."
Political tensions kept investors and tourists away from Egypt after the uprising against Hosni Mubarak in 2011. They have intensified since Mursi's overthrow, which unleashed violent confrontations between security forces and his loyalists. Hundreds of Islamists have been killed and dozens of Mursi supporters imprisoned since July.
Before it's here, it's on the Bloomberg Terminal.
LEARN MORE