Ecclestone Charged in German Formula One Bribery Probe
Karin Matussek and Alex Duff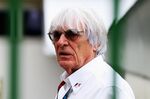 Bernie Ecclestone's control of Formula One was scaled back yesterday after a German court said the auto-racing series chief executive must stand trial on bribery charges.
Ecclestone's trial is planned for late April in Munich, a German court said. He was charged with bribery and inciting another person to commit breach of trust last year by prosecutors investigating the 2005 sale of the series by Bayerische Landesbank.
The 83-year-old Englishman, who has owned or managed Formula One without a deputy since 1995, will hand over the right to approve and sign "significant" contracts to Donald Mackenzie, co-founder of controlling shareholder CVC Capital Partners Ltd., and series chairman Peter Brabeck-Letmathe, Formula One said in an e-mail.
Ecclestone will also step down from the board until the case is resolved, the e-mail said. He will continue to run Formula One on a daily basis "but subject to increased monitoring and control," according to the statement.
"Ecclestone has agreed to these arrangements," Formula One said.
The bribery scandal has hung over Ecclestone since Gerhard Gribkowsky, the former BayernLB chief risk officer, was convicted of taking bribes from Ecclestone and sentenced to 8 1/2 years in prison in 2012.
Gribkowsky, who managed the lender's interest in Formula One, said in court he was paid $44 million to steer the sale of the bank's 47 percent stake in Formula One to CVC, a U.K.-based buyout firm, and agreed to a sham contract under which Ecclestone received a kickback.
'Normal Procedure'
Sven Thomas and Norbert Scharf, Ecclestone's German lawyers, said in a statement the alleged bribery never occurred and that the charges are incorrect and inconclusive.
"The decision to proceed to trial is a normal procedure in a criminal case," the lawyers said in a statement. "It is not evidence of the matter itself."
Ecclestone and a CVC spokesman didn't immediately return calls seeking comment.
Ecclestone told a Munich court in 2011 he was the victim of a sophisticated shakedown and paid Gribkowsky because he feared the banker might tell U.K. tax authorities about a family trust controlled by his wife at the time.
He is also awaiting a verdict in a U.K. civil lawsuit related to the bribery allegations. In the London trial, Constantin Medien AG is suing Ecclestone for $171 million. The German media company says BayernLB's stake was sold to CVC too cheaply because of the alleged bribe to Gribkowsky.
CVC Purchase
BayernLB acquired the Formula One stake after Leo Kirch's media group went bankrupt in 2002. Gribkowsky clashed with Ecclestone and sued him in London over corporate-governance rules changed to limit the lender's influence. Ecclestone wanted to push BayernLB out and saw a chance when CVC showed interest, prosecutors have said.
Gribkowsky was convicted in June 2012 of taking bribes from Ecclestone. Prosecutors, when they won the conviction, said that Ecclestone was a "co-perpetrator" in the bribery scheme. It took them almost a year to file formal charges in May.
The delays have slowed Formula One's progress toward a planned share sale. The racing circuit suspended plans for an initial public offering in June 2012, citing market conditions, and hasn't resurrected the plans amid Ecclestone's legal wrangles.
"It would be silly to go into the market, you don't want any single question" hanging over the sport, Ecclestone said in a May 31, 2013, interview.
Christian Horner, the principal of champion team Red Bull Racing, which isn't part of the Formula One teams' association, said two days ago that "it's in all our interests" Ecclestone stays as CEO as long as possible.
Before it's here, it's on the Bloomberg Terminal.
LEARN MORE