Can Daniel Dienst Turn the Martha Stewart Empire Around?
Can a scrap metal executive save Martha Stewart's empire?
By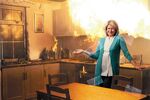 On Oct. 29, the newly appointed chief executive officer of Martha Stewart Living Omnimedia (MSLO), Daniel Dienst, spoke publicly for the first time during an earnings conference call. It was not a cheery occasion. During the third quarter, the company had lost $4.3 million. Falling publishing revenues had once again eclipsed growth in merchandising. Moving forward, Dienst said, he was prepared to make tough decisions that should have been made long ago. His lack of experience in retail and media would be an asset, he argued, not a liability. "I'm not burdened by history," he said.