Can Daniel Dienst Turn the Martha Stewart Empire Around?
Can a scrap metal executive save Martha Stewart's empire?
By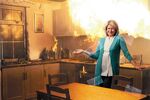 On Oct. 29, the newly appointed chief executive officer of Martha Stewart Living Omnimedia (MSLO), Daniel Dienst, spoke publicly for the first time during an earnings conference call. It was not a cheery occasion. During the third quarter, the company had lost $4.3 million. Falling publishing revenues had once again eclipsed growth in merchandising. Moving forward, Dienst said, he was prepared to make tough decisions that should have been made long ago. His lack of experience in retail and media would be an asset, he argued, not a liability. "I'm not burdened by history," he said.
In fact, his specialty is unburdening people of their things. In the last 10 years, Dienst had been a rising star in scrap metal recycling. So it was somewhat of a surprise when Martha Stewart announced earlier in October that she'd hired him. As the CEO of Sims Metal Management, the 48-year-old Dienst had come to the high church of American domestic design by way of the junkyards of New Jersey.
The CEO office had sat empty for nearly 10 months, and MSLO was and still is in need of a shake-up. Threats have been converging on Stewart's empire from all directions. Over the past decade because of the Web, the world of lifestyle advice that she redefined in the 1990s has splintered into millions of micro advisers. All that free advice—and all those recipes—has been great for consumers who want to know how to deep-fry a turkey or get holiday decorating instruction from the Pioneer Woman. But it's been tough on Stewart, who made her fortune by charging advertisers premium rates to appear alongside her elegantly presented tips on TV and in print. In 2012, MSLO, which Stewart founded in 1997 and took public in 1999, lost $56 million on $197 million of sales. The company bled an additional $8.8 million in the first three quarters of 2013 and has turned an annual profit only once in the past 10 years. Since 2005—the year Stewart completed her five-month prison sentence for lying about a stock sale—MSLO shares have slid from a high of $37.40 to less than $3 for much of last year. Along the way, the company has shed more than $1 billion in value.
The problems on the media side have largely eclipsed the success of MSLO's innovative merchandise-licensing operation in which the company's designers create Martha Stewart-branded products such as paint and towels for mass retailers, including Home Depot, PetSmart, and Staples. Those stores then pay MSLO hefty royalties and fees for the right to manufacture, market, and sell the products. It's a model that Stewart originally pioneered with Kmart in the 1990s, one that was so successful it rapidly remade American retailing. Although it's been copied endlessly, MSLO's branded merchandise business continues to perform well. The division in 2012 generated $39.4 million of profit on $57.5 million of sales. In a research brief to investors, independent brokerage National Alliance Securities noted in December that the company's licensing operation is highly profitable even though it generates no revenue from overseas, "representing what we see as a huge long-term opportunity."
Recently, however, MSLO's licensing business has been overshadowed by a bitter dispute with its most important retailing partner. Macy's in 2012 sued MSLO, alleging an agreement Stewart signed to sell branded merchandise in J.C. Penney stores violated her preexisting, exclusive deal with Macy's. In a scathing complaint, Macy's claimed that MSLO's pact with J.C. Penney had affected "billions of dollars of sales" and "severely damaged the 'crucial connection' between Macy's and Martha Stewart" that the department store had "devoted years and tens of millions of dollars developing." MSLO countered that the products to be sold at J.C. Penney did not fall into the categories exclusively granted to Macy's.
Even as the company has lost money, Stewart has received lavish compensation (between 2009 and 2011, she earned $21.2 million). She retains significant perks, routinely charging the company fees for private jets and personal trainers, according to filings with the Securities and Exchange Commission. In 2012, according to company filings, MSLO paid $127,955 for a "weekend driver" for Stewart; $176,960 to her sister-in-law, a senior vice president; and $92,596 to her sister, a blogger. Stewart and Dienst declined to be interviewed for this story; MSLO also declined to comment.
Despite the many missteps, Stewart shows no sign of conceding defeat. On TV, in print, and on the Web, she continues to churn out advice. How to throw a wonderful winter soiree. How to polish brass. How to supreme a grapefruit. How to de-stress a desk. The only task that manages to foil her steel-cut perfectionism: how to run a profitable business.
Several seasoned leaders within MSLO have tried to help. Over the past decade, the company has cycled through six top executives. In December 2012, CEO Lisa Gersh, who co-founded Oxygen Media and then sold it to NBCUniversal, walked away after only five months on the job. Like many of her predecessors, she had struggled to remake a culture that is shaped, two former staffers say, by Stewart and the powerful group sometimes known as "friends of Martha." These longtime employees have been at her side for decades, and they tend to be resistant to change.
And so this past year, observers on Wall Street were left wondering who would come to the rescue of MSLO. Many were puzzled by the emergence of Dienst in October. All of the previous CEOs of MSLO had retail or media backgrounds. Not Dienst.
 
 
Dienst grew up the eldest of three siblings in Gravesend, Brooklyn. His father was a lawyer. His younger brother Jonathan went on to become an investigative reporter for WNBC in New York (according to WNBC's site, Jonathan was the first journalist "to report about the Justice Department's 'strong criminal case' against Martha Stewart" in 2003).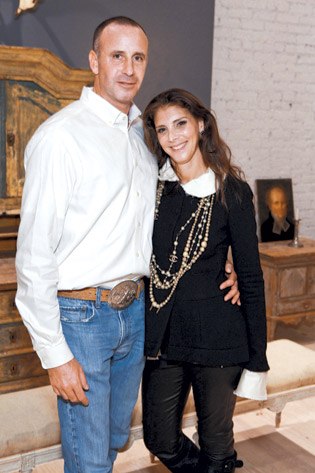 After attending Washington University in St. Louis, Daniel earned a law degree from Brooklyn Law School. He worked briefly as a lawyer, then moved to investment banking, eventually landing in the corporate and leveraged finance group of CIBC World Markets. There, he developed an expertise in restructuring failing businesses across a range of industries, from oil and gas to casinos to steel. In 2006, the Chicago Sun-Times described him as "a guy who performs CPR on dead companies."
"Restructuring jobs tend to be a knife fight," says Mark Henkels, a managing director at investment bank Moelis, who worked alongside Dienst at CIBC. "He has a unique ability to focus on looking after shareholders' wealth creation. That's transferable, regardless of the sector. He's not a real sharp-elbowed guy, but he can be tough."
While at CIBC in 2001, Dienst was tasked with guiding an ailing scrap-metal-recycling company called Metal Management out of Chapter 11 bankruptcy. Along the way, he became fascinated with the industry. Dienst left investment banking and in 2003 became Metal Management's CEO.
In the following years, he invested in technology, streamlined operations, and bought equipment, including a massive megashredder at Metal Management's yard in Newark, N.J. In 2008, he engineered the sale of the resuscitated company to the Sims Group of Australia, creating the largest scrap metal recycler in the world and staying on as CEO of the combined company.
The scrap metal industry tends to be populated by family businesses. Paul Dreher, owner of Jefferson Iron & Metal Brokerage, a family-run outfit in Birmingham, Ala., says Dienst, like all interlopers, was initially viewed skeptically. "It's a very close-knit [industry]," says Dreher. "He overcame a lot of obstacles to gain our respect. He brought a very smart, pragmatic approach to the business."
In the summer of 2013, with Sims Metal Management racking up major losses in part because of the decline of steel prices, Dienst stepped down as chief executive. He joined MSLO's corporate board in August. Two months later, he became CEO.
Once the surprise of Dienst's appointment wore off, Wall Street warmed to the idea. Perhaps a guy who had spent years figuring out how to extract value for shareholders by pulling apart junk was the perfect person to sift through MSLO's media portfolio, keep the good stuff, and sell the spare parts. His dispassionate outsider status might make him the ideal candidate to finally impose fiscal discipline on Stewart and her inner circle.
"It was at first a little shocking but then completely made sense," Michael Kupinski, director of research with Noble Financial Capital Markets, told Bloomberg News following Dienst's appointment. "He's a restructuring kind of guy. He has a history of coming into companies, fixing them up, and selling them."
On Monday, Oct. 28, hundreds of employees at MSLO's headquarters in Manhattan gathered for a town hall-style meeting inside its "clerestory"—a vast loftlike space where the company throws galas, design exhibitions, and its annual holiday party. Dienst, who is tall and lean and walks with his broad shoulders thrown confidently back, strode in. He was wearing jeans, a starched, white button-down shirt, suede cowboy boots, and a big metal belt buckle. The Manhattan-meets-Montana, SoHo-bolo style is his uniform: He wears the same thing to work every day.
For the next several minutes, according to a person present who isn't authorized to speak on the record, Stewart introduced Dienst to her staff, gushing about his record of arriving at various companies, improving earnings, and rapidly elevating the share price. She also noted that, like her, Dienst loves the great outdoors. He rides horses, knows his way around a ranch, and has spent time out West.
Stewart knew all of this from personal experience. The lifestyle queen and the scrap metal king have been friends for years. Like her, Dienst and his wife, Jill, own a house in the Hamptons, collect antiques, and attend parties on the design-charity circuit. In August 2013, marthastewart.com published a "tastemaker" profile of Jill Dienst, who is the owner of Dienst + Dotter, a gallery in Manhattan specializing in Scandinavian antiques and interiors. The feature includes a photo of Daniel and Jill and their daughter smiling over an al fresco breakfast, radiating domestic bliss. Anyone hoping that MSLO would hire someone to break up Stewart's network of friends within the company faced another possibility: that Stewart had appointed someone well positioned to join their ranks.
To judge by Stewart's blog, she has been socializing with the Diensts for years. In August 2009, Jill and Daniel accompanied Stewart and a small coterie of her work friends to Montana to visit the ranch of media mogul Ted Turner. Among the snapshots of red-tailed hawks, herds of bison, and taxidermied goats that Stewart posted are several images of the Diensts. Elsewhere on Stewart's blog, readers can check out a photo circa 2007 from Maine, where she owns a country estate, showing Daniel posing with her dogs Paw Paw and Sharkey.
 
 
In mid-December, Dienst made his first cuts at the company: nearly a hundred employees, mostly in the media division. Among those let go were several of the top executives who had been brought in by Gersh. The layoffs effectively left untouched Stewart's inner circle and their salaries, says one former staff member who isn't authorized to speak on the record. The company remains on the hook to cover Stewart's expenses under an ongoing "intangible asset license agreement," according to SEC filings.
"If they have the ability to cut costs in publishing and get that to break even, says Noble's Kupinski, "you'll start seeing the significant earning power at the company."
Samir Husni, the director of the Magazine Innovation Center at the University of Mississippi, thinks that if Dienst wants to reverse the media losses, he'll have to change the culture, starting with the founder, whose magazine-making ideal was forged in the mid-'90s when editorial budgets often ran wild. "It seems like they are frozen in time," he says.
But at some point, if Dienst trims MSLO's media properties too much, he risks damaging the merchandising operation by cutting off the fuel that keeps the Martha Stewart brand warm in the hearts of consumers. For now, surveys suggest the brand remains strong. Henry Schafer, the executive vice president of Marketing Evaluations, a consumer research firm, says Stewart scores at the top of the charts in awareness.
"She remains highly influential with the public while simultaneously being on its lower end of the scale in trustworthiness and likability," says Rob Levy, the president of InterMedia Entertainment, which quantifies celebrities' potential value for marketers. "Consumers may not have the same love affair with Martha that they once had, but it appears that many of them are still willing to buy into her product endorsements." Occasionally, she'll even pitch for other companies. During the recent Golden Globes, Stewart stole the show by appearing in a low-budget ad for Pine Bros. Softish Throat Drops. "They are more than just a throat drop," said Stewart knowingly. "They are an experience."
MSLO renegotiated its agreement with J.C. Penney in October, which reduced the number of products that carry Stewart's name. This leaves the company with a much smaller projected revenue stream.
On Jan. 2, MSLO announced that after two years it had finally settled the legal dispute with Macy's. The terms were not disclosed, but the news was well received by investors. Shares of MSLO gained 8.8 percent to $4.57 by the end of the day—marking a 91 percent gain since Dienst became CEO.
Stewart will turn 73 this summer. The company has no clear plan for a future beyond its founder. One recurring idea has been to diversify MSLO's stable of stars. It paid roughly $50 million in 2008 to buy Emeril Lagasse's media and merchandise franchise. These days, Lagasse works as a correspondent for ABC's Good Morning America; hosts Emeril's Florida, a series on the Cooking Channel; and promotes his most recent cookbook, published last year, called Emeril's Cooking With Power. And in 2010, according to Vanity Fair, the company paid Alexis Stewart, Martha's daughter, $407,680 to co-host a television and radio show, which might extend the family brand to a younger audience. But the shows were short-lived, and Alexis, now 48, left the company in 2011.
In the past several years, MSLO has also tried to cultivate a fresh crop of talent. The company in the fall of 2007 unveiled Martha's Circle, a constellation of lifestyle blogs for which MSLO would sell the digital ad space. While showing some promise, Martha's Circle has often found itself adrift amid the various executive shuffles. In the meantime, traffic at marthastewart.com is growing. The site attracted 7.2 million unique visitors in the U.S. in November, up from 4.6 million in January 2011, according to ComScore. Whether the company is capable of minting a new generation of media stars, however, remains to be seen.
Stewart can at times be dismissive of the Web. This fall, during an interview with Bloomberg TV, she unleashed a categorical critique of her digital competitors. "Who are these bloggers?" she said. "They're not trained editors at Vogue magazine. They are bloggers writing recipes that aren't tested, that aren't necessarily very good, or are copies of everything that really good editors have created and done. Bloggers create a kind of popularity. But they are not the experts, and we have to understand that." For better or worse, she remains committed to the ideal of high-octane perfectionism, wherever she may find it, from the kitchen to the laundry room—even the professional bull-riding arena.
On the first weekend in January, Dienst pulled on his cowboy boots and, along with his wife, squired Stewart to a bull-riding tournament inside Madison Square Garden. For the occasion, Stewart dressed in Western garb, including knee-high boots, a brown leather jacket, and a cowboy hat. During a break in the action, she said hello to the audience on the arena's JumboTron. "I love this sport," she said. "I can't believe they can stay on there for eight seconds!" Later, she gave away a free Stanley stud finder.
That night, all of the company's troubles seemed far away. "Dan's enthusiasm is contagious," Stewart wrote on her blog a few days later. "Now I'm a big fan of this exciting sport. … Chaps are considered 'equipment.' "
Before it's here, it's on the Bloomberg Terminal.
LEARN MORE