Corning Aims to Improve Its Gorilla Glass Screens
The glassmaker spends big to keep its lead in smartphone displays
By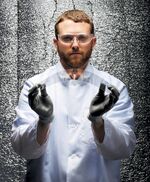 The first thing most consumers associate with Corning, the creator of Pyrex glassware, probably isn't a smartphone. The company, which sold most of its Pyrex business in 1998, has become the leading manufacturer of the glass placed over mobile device screens. Its Gorilla Glass is the fastest-growing product in its 163-year history, according to Chief Executive Officer Wendell Weeks.
With U.S. smartphone sales slowing, device makers are looking for new ways to stand out, and Corning is racing to make its screens stronger, thinner, and maybe even curvier before a rival can catch up. "Today, glass still breaks, and glass still scratches," says Dave Velasquez, director of marketing and commercial operations for Gorilla Glass. "Until those things go to zero, the customer is not going to be happy."
Corning has upgraded its glass three times since its first mass-produced design in 2007, making the covers tougher but hardly drop-proof. More than one-third of the 29,000-employee company's annual revenue now comes from display technologies, including mobile products, says Chief Financial Officer James Flaws. Corning spent $726 million, about 9.1 percent of its annual revenue, on research and development in the 12 months through September, mostly on newer lines of business such as smartphone screens.
Competitors for the screen-cover business include Asahi Glass, which sells chemically strengthened glass called Dragontail, and Nippon Sheet Glass, which is refining an ultrathin screen that can bend without breaking. The glassmakers, based in Japan, didn't respond to requests for comment.
Corning's greatest threat may come from Apple, one of its biggest Gorilla Glass customers. In September, Apple applied for a patent on a sturdier smartphone screen made with sapphire. Apple already uses the gemstone in its mobile camera lens cover and in the iPhone 5S fingerprint-reading Home button, and is completing a factory in Arizona to be operated by sapphire-crystal maker GT Advanced Technologies. Apple declined to comment on its suppliers.
An Apple switch to sapphire screens would be a big blow to Corning, which got into the smartphone screen business after Steve Jobs hired the company in 2006 to design a screen for the first iPhone. Corning, built on railroad lanterns and the first bulb for Thomas Edison's electric light, says it drew on automotive research from the 1960s to meet Jobs's famously exacting standards. Since then, Gorilla Glass has been incorporated into smartphones made by Samsung Electronics and other manufacturers. "We think of ourselves as a technology company," Flaws says. "What we are best at is inventing something brand-new."
Investors sent Corning's stock up 41 percent last year, betting that the company can maintain its advantage. "Because they have been around such a long time and have big R&D in terms of electronics, they have an edge," says Mehdi Hosseini, an analyst at Susquehanna Financial.
For Corning, the next frontier is shaped glass. Its engineers have developed techniques to mold Gorilla Glass into curved displays that make phones more ergonomic and enlarge the usable screen area, Velasquez says. He wouldn't name clients, but three people with knowledge of the matter said in November that Apple and Samsung are working on rounded phones. Velasquez says another goal drives him: "Until we solve the breakage problem, the scratching problem, we will not stop."
Before it's here, it's on the Bloomberg Terminal.
LEARN MORE