business
China's Nu Skin Probe Puts Other Direct Sellers on Notice
By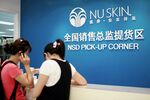 News that regulators in China are investigating Nu Skin Enterprises has sent its shares plunging by almost 50 percent over two days. The announcement from China's State Administration for Industry and Commerce follows a report in the official People's Daily newspaper that alleged Nu Skin brainwashes its salespeople and sells more types of products than it's allowed to.
Government scrutiny could easily expand to other so-called direct sellers in China, which has some of the most restrictive laws in the world on how they are allowed to operate. In general, these kinds of companies rely on door-to-door salesmen, as opposed to a chain of stores, and salespeople earn money both for selling products and for enlisting new members into the enterprise.
China is an unusual market, both in terms of its size and its regulations. It banned multilevel marketing in 2005, and direct sellers—eager to find their footing in China—have had to adapt. Even so, there is evidence that companies still rely on marketing structures that depend, more or less, on giving sales agents incentives to recruit as many people as they can underneath them.
In August 2012, the short-selling website Citron Research alleged (PDF) that Nu Skin was operating illegally in China. Citron said it sent someone to attend a Nu Skin meeting in China, where the main speaker discussed a pyramid sales model; Nu Skin denied it. In response to the official investigation, the company said, in a statement:
As part of our ongoing commitment to comply with all applicable Chinese regulations, we have initiated our own province-by-province business review and will invite relevant regulators to provide guidance. Given the substantial growth in our China salesforce over the last year, we are also taking additional steps to reinforce our training and education efforts.
Other companies have found their own ways around—or through—China's regulation. Two Amway salespeople interviewed in a Bloomberg News story last year also outlined a pyramid structure in which they could earn commissions on what they sell, as well as bonuses on the sales of those they enlisted. Amway's corporate message is different: It says it operates in China through a network of what are called "authorized agents," individuals who register as a business and sell from a fixed location. It also has regular salespeople, who, the company is careful to say, get a commission only on what they personally sell.
Other companies also use a "business-to-business" model in which successful agents register as businesses to get around limits on types of compensation, said Corey Lindley, a former Nu Skin executive in Asia, in an interview last year.
Perhaps Nu Skin is China's only direct-marketing target. On the other hand, it might also be an opening salvo in a broader initiative. If China's were to decide that these companies are getting too creative in their interpretation of the rules, Nu Skin probably wouldn't be't the only company with something to worry about.
Before it's here, it's on the Bloomberg Terminal.
LEARN MORE