BlackBerry: We Just Sold 1,000 Phones
By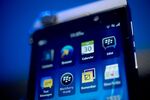 It is often said that the key to happiness is low expectations, and BlackBerry's public relations department is working overtime to lower its bar. The company put out a statement Thursday trumpeting a new deal with Datev, a German software company. The highlight? Datev has agreed to purchase 1,000 BlackBerry 10 smartphones. At its peak, BlackBerry sold almost 7,000 phones per hour.
No company has had a harder time lately than BlackBerry, and the company has been reminding people it is still open for business. Since October, it has announced that an Italian consulting firm bought 3,500 devices, that the Australian Safety Transport Bureau and a financial services company in India bought an undisclosed number of phones, and that PSA Peugeot Citroën would deploy 10,000 BlackBerry 10 smartphones.
The announcements have focused on BlackBerry's traditional calling card: security. "Our employees use their mobile devices to conduct confidential business, and require a reliable smartphone that can secure the transmission of business data across every endpoint, including the device, server, and network," Wolfgang Fischer of Datev said in a statement included in Thursday's release. The company's best chance for revived relevance, it could be argued, is convincing corporations it is still a safer alternative to other smartphone platforms.
More fundamentally, BlackBerry is fighting the impression that it would be better to stop making devices at all and focus on software and services instead. Last month the company reached a deal with Foxconn Technology to outsource its production to the manufacturer, allowing it to hand off manufacturing options that were suffering from reverse economies of scale.
It's not clear that this is the best way to make this case, though. A basic tenet of public relations is to focus on the positive, whether you're running a company suffering through a round of layoffs or a campaign whose candidate has flubbed a televised debate. Then again, highlighting deals that would be rounding errors for competitors hardly seems like evidence of resurgence. Sometimes there's something to be said for toiling in obscurity.
Before it's here, it's on the Bloomberg Terminal.
LEARN MORE