At the Vegas Gun Trade Show, It's the Year of the Woman
Paul M. Barrett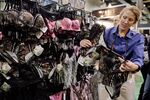 The gun industry is wrapping up its annual confab in Las Vegas. The Shooting Hunting Outdoor Trade show (SHOT … get it?) brings together some 50,000 people who sell everything from rifles and pistols to ammunition, body armor, pup tents, and duck calls. Retailers examine manufacturers' latest wares and place orders for the coming year. Thick steaks and alcoholic beverages are consumed.
As a longtime observer of the industry, I usually attend this several-day affair. This year, academic corruption within the NCAA and a nasty chemical spill in West Virginia, among other matters, kept me from Las Vegas. Luckily one of my go-to gun-business participants, Richard Feldman, was kind enough to send a report from the SHOT show exposition floor. Feldman has impressive credentials: A former National Rifle Association lawyer and gun-industry trade group official, he's now a consultant, head of a small advocacy group called the Independent Firearm Owners Association, and author of a gripping tell-all book, Ricochet: Confessions of a Gun Lobbyist.
Here's Feldman's dispatch:
"The mood is upbeat, but the crazed buying frenzy of last year is over. Demand for ammunition is still unbelievably strong, but the gun makers know it's time to market and sell product, not simply write orders that can't possibly be filled. The next ramp-up in sales may not occur until the 2016 presidential campaign gets going in earnest. The more likely a Hillary Clinton victory looks, the more advance 'fear buying' will recur. While most may vote Republican, manufacturers and retailers secretly hope for a repeat of the 'Obama surge' that has boosted sales since 2009.

"Even with sales softening in 2014, industry executives expect a gentle landing from the historic domestic commercial sales in 2013. Sturm Ruger alone sold almost as many guns this year as the entire industry produced 20 years ago. First-time buyers are hot prospects for additional new sales in other calibers, and there has been a dramatic upsurge in firearm product for woman.

"On the expo floor, guns are everywhere at booths in pink, yellow and chartreuse.  More woman buyers [for retail establishments] are also a distinct departure from past years, and that's likely to be a permanent change."
So there you have it. The gun industry aspires to make 2014 the Year of the Woman Shooter as a prelude to the election of the first woman president. Who said the firearm business is a bastion of conservatism?
Before it's here, it's on the Bloomberg Terminal.
LEARN MORE