AngelList, the Social Network for Startups
Naval Ravikant's AngelList links young businesses with backers
By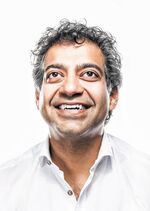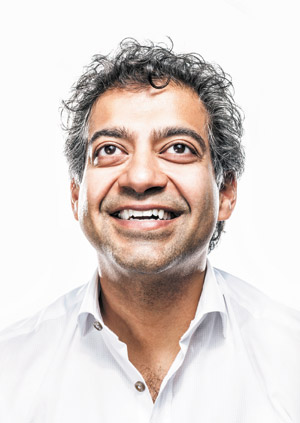 Silicon Valley companies often talk a big game about transforming the culture of stodgy old industries, from media and retail to travel and finance. Until recently, though, the high-tech world hadn't applied its disruptive energy to its own business practices. For decades, forging a deal with the Valley's small, well-heeled clique of angel investors was a little like trying to break into an exclusive club. Entrepreneurs had to work their personal networks to get meetings with the right financiers and then negotiate privately, with little awareness of fair market value or better opportunities elsewhere. "It was a smoke-filled-room thing," says Wesley Chan, a partner at Google Ventures, the search giant's venture arm.
AngelList, a four-year-old startup based in San Francisco, is starting to open things up with a social network for the kind of people who create and invest in social networks. It's a Kickstarter-like online forum where startup founders post their ideas and meet investors who fund risky, early-stage companies. In 2013, 500 startups raised $125 million through the site, including transactions ultimately closed offline, says Naval Ravikant, AngelList's co-founder and chief executive officer. Ravikant, suddenly one of the Valley's highest-profile power brokers, says his company's mission is "to make startup investing transparent, efficient, and more open."
On AngelList, startups fill out profiles that list information such as their previous backers and the amount of capital they've already raised. With those profiles, they can simultaneously pitch hundreds of certified investors—financial firms and wealthy individuals and companies. AngelList handles the regulatory paperwork (so startups have to fill out the relevant forms only once) and offers resources for those that are navigating the funding labyrinth for the first time. A feature on the site called syndicates, introduced in September, lets users pool their money alongside a single well-connected angel. When that investor backs a company, so do they. Syndicates have formed behind some widely known Valley figures: Kevin Rose, a general partner at Google Ventures, and Tim Ferriss, the self-help and marketing guru.
Lead investors of syndicates get to set their own terms. Ferriss collects a 15 percent "carry" fee from his followers, a portion of any positive return they receive if the startup is acquired or goes public. (AngelList takes a 5 percent cut on any such paydays; Ravikant wouldn't disclose revenue.) Ferriss has 485 backers on AngelList willing to commit as much as $2 million to any one deal. He calls his syndicate a "sort of automated VC firm without the management fees," and he marvels at his ability to "press a button and deliver a Series A" round of financing to any startup.
Startups such as the private taxi service Uber and babysitting-jobs site Urbansitter have turned to AngelList to meet new investors, get their deals done quickly, and add to rounds of fundraising that are already in progress. Sprig, a San Francisco-based dinner delivery service, raised money last summer via the normal routes but sought a smaller round in the fall when it signed a lease on a new kitchen. The company raised most of the needed $500,000 in a single day on AngelList, in part because investors using the site could see it had already secured money from prominent backers such as Brian O'Malley, a partner at the venture capital firm Accel Partners. "Fundraising is a pain that takes you away from building a company," says Gagan Biyani, Sprig's CEO. Using AngelList to raise the additional funds, he says, "was a no-brainer."
Ravikant, 40, developed the missionary zeal behind AngelList through personal experience. He was born in Delhi, the younger of two brothers in a lower-middle-class family. His father, a pharmacist, struggled to make ends meet and moved to New York City when Ravikant was 4. The rest of the family followed when he was 9 and had to rely in part on public and private assistance. Ravikant, deeply immersed in computers and science as a child, attended Stuyvesant High School, then Dartmouth College, supplementing financial aid with jobs washing dishes, delivering newspapers, fixing computers, and tutoring.
Ravikant moved to Silicon Valley after graduation, and one of his first startup experiences was a bad one. He co-founded Epinions, an early online reviews site, but felt cheated out of proceeds from the company's sale to EBay. He and several colleagues sued two of their VC backers; the suit was settled privately for an undisclosed amount. Ravikant channeled his disappointment into a blog called Venture Hacks; it offered dealmaking tips to startups. "Founders were signing all these agreements and had no idea what any of it meant," Ravikant says. "Because I was burned by it in a public way, a lot of people approached me for advice."
In 2010, after several false starts, Ravikant and co-blogger Babak Nivi turned Venture Hacks into AngelList, a widely distributed e-mail that quickly evolved into the networking website. Shervin Pishevar, a prominent Valley venture capitalist who advises Uber, says Ravikant "has taken his personal pain and experience with venture capital and turned everything on its head."
Google Ventures led a $24 million investment in 22-employee AngelList in September. (Bloomberg Beta, the venture arm of Bloomberg Businessweek parent Bloomberg LP, also made a small investment.) Over the past few months, AngelList has added startup job listings to its site and lobbied the U.S. government to further relax fundraising restrictions in the JOBS Act, the 2012 federal law that lowered regulatory requirements for startups. Ravikant would like to see the public using AngelList, not just accredited investors. "You don't have to be accredited to gamble, which on net balance, loses money. But for some odd reason you have to be accredited to make private investments, which on net balance make money," he says.
There are AngelList skeptics, though the site is so hot they seem to keep their heads down. One venture capitalist who didn't want to be named because he didn't want to be seen as being critical of a competitor says the syndicate commission system rewards lead angels for making high-risk investments. Ravikant says the public nature of the site would quickly ruin the reputations of such profiteers and that he's not thinking in the short term. "I view this as a 10- or 15-year project," he says. "The tech industry is changing and spreading to the ends of the world, and we will change and grow along with it."