A $5 Billion U.S. Fraud Case Against Standard & Poor's Enters Critical Phase
Paul M. Barrett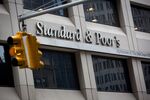 Thrilling depositions. Sounds like an oxymoron, right? Not when it comes to civil fraud lawsuits.
The U.S. Department of Justice has scheduled depositions in its potential landmark suit against rating agency Standard & Poor's. The suit, pending in federal court in California, offers one of the last, best hopes for a full accounting of how the major rating companies allegedly inflated their evaluations of mortgage-backed securities in the runup to the 2008 financial crisis. S&P has admitted that its ratings were woefully inaccurate but has denied it committed fraud or any other wrongdoing.
Whether the feds can prove the purposeful deception needed to clinch a fraud case—and billions of dollars in damages—will turn on whether government lawyers can get current and former S&P analysts to concede that they knew they were rubber-stamping doomed securities as worthy of AAA ratings. The venue for this showdown will be not the open courtroom but the bland conference rooms in which depositions occur. This case, you see, is unlikely ever to result in a full-dress trial. Instead, once the opposing sides see what the Justice Department can come up with in depositions, a settlement will probably ensue. So depositions are really the main event. Our colleagues at Bloomberg News ably elaborate on the details:
"As many as nine current and former employees of McGraw Hill Financial Inc.'s Standard & Poor's unit may be questioned by U.S. Justice Department lawyers as part of a fraud lawsuit against the ratings company. The government has scheduled depositions of six current collateralized-debt obligation analysts, according to a status report filed in federal court in Santa Ana, California. The U.S. is also scheduling depositions of another employee and two ex-employees, according to the joint filing. New York-based S&P has yet to schedule its own depositions. …

"The Justice Department last year accused S&P of lying about its ratings being free of conflicts of interest and may seek as much as $5 billion civil penalties. S&P has said it will seek evidence that the lawsuit was political retribution by the government because S&P was the only rating company to downgrade U.S. debt in 2011.

"The company is scheduled to seek to compel the U.S. to hand over internal documents about its decision to sue S&P and not Moody's Corp. (MCO), which S&P says gave the same ratings as the company did for residential mortgage-backed securities and CDOs backed by those securities. A hearing is scheduled for March."
All this bears close attention by anyone concerned about the continuing centrality of rating agencies on Wall Street and in the economy at large.
Before it's here, it's on the Bloomberg Terminal.
LEARN MORE