Xi Jinping's Anticorruption Paradox
By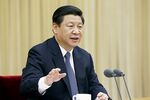 To listen to President Xi Jinping, fighting corruption is of the utmost importance. He has publicly warned that unchecked graft threatens the future of the Chinese Communist Party while overseeing the detention of scores of officials suspected of financial improprieties.
He has launched a national crackdown on conspicuous consumption among party members and ordered anti-graft authorities to reclaim homes illegally occupied by local officials and seize public vehicles that are being improperly used. Xi has even decreed that funerals for recently deceased cadres be simple and inexpensive.
This week the drumbeat of anti-corruption rhetoric has continued. While attending a three-day national meeting of the Party's graft-busting agency, the Central Commission for Discipline Inspection, Xi warned that "corruption remains rampant on many fronts" and regulations to curb it must not become "paper tigers or scarecrows," or ineffective, the official, English-language China Daily reported on Jan. 15.
But reports that a detained rights activist and advocate for official transparency may undergo a hearing this Friday, which could quickly be followed by a trial and sentencing on charges of "organizing a crowd to disrupt public order," are a reminder that unsanctioned efforts to fight corruption are unwelcome, and can even be considered subversive.
Forty-year-old Xu Zhiyong, a law lecturer at the Beijing University of Posts and Telecommunications, was put under house arrest in April and then formally detained in July in response to his push for public disclosure of government officials' assets. An indictment was filed against him in early December, saying he used the "asset disclosure" issue to "organize and orchestrate the gathering of many people in public places."
Xu, who has also pushed for greater rights for the children of China's migrant workers, could be sentenced to as many as five years in prison, if convicted. "President Xi Jinping says he is committed to fighting corruption in China, but when Xu Zhiyong spoke out on the issue, he was arrested," said Brad Adams, Asia director of Human Rights Watch, in a Dec. 26 news release.
Fifteen anti-corruption activists were detained last spring in Beijing and Jiangxi Province after joining in or organizing protests calling for more transparency of public officials' assets.Ten of them have since been formally arrested (including Xu), on charges including "illegal assembly," "disturbing social order," "extortion," and "inciting subversion of state power"—the last carrying a penalty of up to 15 years in prison, with the rest bearing maximums of five years. A trial was held on Dec. 3 in Xinyu, Jiangxi, for three of the activists, but no verdict has been announced.
"When President Xi Jinping calls for a tough response to corruption it's hailed as innovative policy, but when ordinary people say the same in public, his government regards it as subversion," said Sophie Richardson, China director at Human Rights Watch in a June 9 news release.
Before it's here, it's on the Bloomberg Terminal.
LEARN MORE