business
Union Boss in Boeing Contract Fight to Retire, Cites Poor Health
By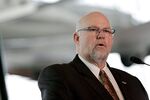 The president of the largest workers union at Boeing is stepping down at month's end following a fierce contract battle that damaged his health. "Your job should not destroy your health," Tom Wroblewski told members of the International Association of Machinists & Aerospace Workers Lodge 751.
Wroblewski, 59, has been in the hospital twice since Dec. 27, suffering from an ulcer that required surgery, the Seattle Times reported today. He led the local union's opposition to a contract offer from Boeing designed to secure production of the company's new 777X jet. That contract passed narrowly on Jan. 6—after national IAM leaders pressed for a second vote—reversing the workers' overwhelming rejection in November. If the contract had failed, Boeing said it was prepared to build the airplane in one of the 22 states that had bid for the work.
The new contract has split many younger and older assembly workers because it dismantles the traditional pension system at Boeing, beginning in 2016, in favor of a 401(k)-style retirement plan. Wroblewski had lobbied for his members to reject the contract at the second vote, a stance that put him in opposition to Washington's state and national elected officials who wanted the project in Boeing's traditional Puget Sound manufacturing base. In a statement Tuesday night, he said that stressful experience "changed my perspective on work-life balance."
Wroblewski began his Boeing career in 1978 as a quality inspector and moved to full-time union work in 1992. He was elected president in 2007. His current four-year term was to have ended in January 2016.