Thailand's Protests Hit Tourism to Neighboring Myanmar
Christina Larson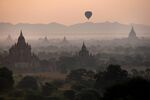 For three days, thousands of antigovernment protestors have filled the streets of Bangkok, clogging intersections and calling for Prime Minister Yingluck Shinawatra to step down. The country's tourism industry is expected to take a major hit, with visitors from China projected to decline 70 percent in January and during the crucial Chinese New Year holiday, as my colleague Bruce Einhorn reported on Monday.
But it's not only Thailand's tourism sector that's suffering. Neighboring Myanmar is also feeling the chill. "Usually this time of year is a popular tourist season," Aye Mra Tha, an official at state-run Myanmar Airways International, told the Democratic Voice of Burma media group. She said that passengers were down 40 percent on flights between Bangkok and Yangon (many international flights to Myanmar's capital are routed through Bangkok). Even as fewer tourists arrive in Myanmar, travel agencies based in Yangon also reported anemic business booking visitors to Thailand.
Roughly three years after President Thein Sein kicked off Myanmar's political transformation and economic reform agenda, the country's growth record has been mixed. From April 2012 to April 2013, Myanmar's GDP grew at a fairly impressive 6.5 percent (pdf), largely fueled by increased exports of gas and commodities, according to official statistics (which some observers question). Yet significant barriers to investment remain. The World Bank's "Doing Business" report for 2014 ranked Myanmar near the bottom: 182 out of 189 countries. Particularly thorny areas included "starting a business," "enforcing contracts," "protecting investors," and "getting credit," according to the report.
Yet tourism in Myanmar has been a relative bright spot. Tourist arrivals in Myanmar doubled in 2013, to 2 million. It's still a small slice of the economy, but it's a fast-growing component of Myanmar's nascent service sector. Next month, when 300 or so hospitality professionals convene in Yangon for the second annual "Myanmar Hospitality & Tourism Conference," it's a near-certainty that one hot topic will be the state of affairs across the border in Thailand.
Before it's here, it's on the Bloomberg Terminal.
LEARN MORE