Sochi Olympics Ticket Sales Are on a Downhill Slope
By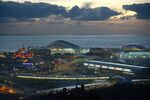 The Sochi Winter Olympics are set to open Feb. 7, and it's starting to look as if many fans have decided to give them a miss.
Listings of tickets put up for resale on a "fan to fan" website have soared almost 50 percent over the past week, with more than 3,100 offers now posted. Most offers include multiple tickets, up to a maximum eight per offer.
The U.S. website of CoSport, the exclusive ticket agent for North America and most of Western Europe, still lists seats available for some sought-after events such as the gold-medal match in men's ice hockey. The Sochi 2014 website, the official sales outlet for residents of Russia and many other countries, has tickets available for more than 100 events.
The growing inventory on the fan-to-fan site suggests that "availability is far greater than demand," says Marlies Hoedemaker, secretary of the EU Secondary Ticketing Association, an Amsterdam-based trade group for ticket-resale companies. Some buyers may have changed their minds about going, she says, while others may have bet—unsuccessfully—that if they bought tickets early they could resell them at a profit later when supplies ran low. People who resell on the Sochi-authorized fan-to-fan site can recoup only the ticket's face value.
The Sochi 2014 organizing committee said last October that more than 60 percent of tickets had already been sold. No updated information is available, a committee spokeswoman tells Bloomberg Businessweek.
CoSport spokesman Michael Kontos says that ticket demand and sales in North America and Europe "have been in line with expectations" but declines to provide detailed numbers.
The Sochi organizing committee hasn't said how many tickets were available overall. About 1.5 million tickets were sold for events at the 2010 Winter Games in Vancouver. The Sochi committee has said that 70 percent of tickets were reserved for Russians.
Russian President Vladimir Putin, whose government has spent a record-shattering $51 billion on the Winter Games, has scrambled to beef up security after the recent attacks in Volgograd.
Security, though, is only one concern. Despite Putin's promise that the Winter Games would be affordable, costs for U.S. visitors could easily reach $10,000 per person, counting event tickets, airfare, hotel, and incidentals.
CoSport, for example, is offering a pair of tickets to the men's bronze- and gold-medal hockey matches for $3,666 per person. Three nights in a Sochi hotel would cost another $1,584. The cheapest roundtrip airfare to Sochi from New York City during the games, according to several travel search engines, is more than $1,600 and requires long layovers in Istanbul or Moscow. Flights with more-convenient connections cost more than $4,000.
Although Lufthansa and Scandinavian Airlines are adding some direct flights during the Games, most flights to Sochi's Adler airport require transit through Russian cities—a potential concern after recent attacks targeting transportation hubs. And while many earlier games were held in or near big cities where visitors could "combine a fun city trip with visiting the Olympics, in Sochi there are only the Olympics," says Hoedemaker.
Fans hoping to grab last-minute deals on the fan-to-fan resale site are likely to be disappointed, as the Sochi organizers are tacking a 30 percent commission on each sale, even though many of the same tickets are still available elsewhere at the original face-value price.
Commercial ticket brokers aren't selling many Winter Games tickets, as the organizing committee designated only a handful of authorized sales outlets and threatened stiff penalties against Russians who tried to resell tickets outside official channels. "My members have been offered a lot of tickets. I personally receive an e-mail each week with a spreadsheet full of inventory," says Graham Burns, chairman of the London-based Association of Secondary Ticket Agents. But, he says, "the brokers don't want to get involved."