Portugal's Yields Drop to Four-Year Low as Euro Rally Builds
Joao Lima and Anabela Reis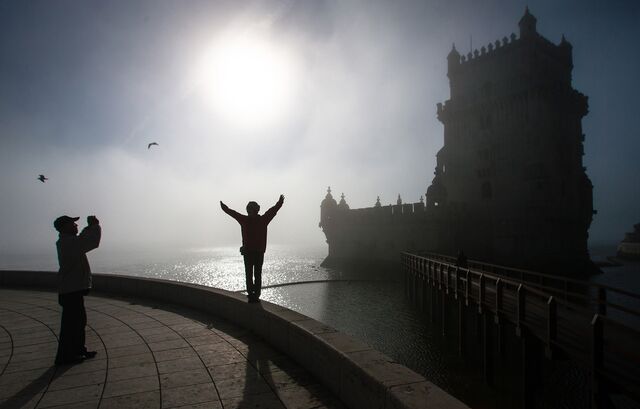 Portugal's borrowing costs fell to the lowest since the start of Europe's sovereign debt crisis in 2009 as the region's higher-yielding government bonds extended a rally on prospects for an economic recovery.
Portugal sold 1.01 billion euros ($1.37 billion) of 12-month bills today at an average yield of 0.869 percent, the lowest rate for comparable-maturity debt since November 2009. The auction, which attracted the strongest demand since February, followed bond sales by Portugal and Ireland last week as the nations seek to regain access to international markets.
"I didn't expect such low yields," Filipe Silva, director of asset management at Banco Carregosa SA in Oporto, northern Portugal, said in a note. "The perception of risk that investors have on Portuguese debt is dropping quite a lot."
Lured by higher yields than those available on benchmark German bonds, investors are snapping up securities from the euro area's most-indebted nations as the economy shows signs of growth and the European Central Bank pledges support. BlackRock Inc., the world's biggest money manager, is among the buyers, and DWS Investments says the rally will continue. Data released yesterday showed Japanese traders purchased the most Italian government debt in November since October 2010.
Yield Spreads
The average yield investors demand to hold bonds from Greece, Ireland, Italy, Portugal and Spain fell to 161 basis points, or 1.61 percentage points, more than German securities last week, Bank of America Merrill Lynch bond indexes show. That's the lowest since April 2010 and down from more than 8 percentage points in 2011.
Ireland raised 3.75 billion euros selling 10-year bonds via banks last week, returning to financial markets after completing a three-year bailout program. Portugal is planning to resume auctions of bonds in the first half of this year and Greece, which sold bills yesterday at the lowest rate in more than three years, has said it may sell five-year notes in the second half. All three nations requested international aid as the debt crisis swept the euro area.
BlackRock, which had $4.1 trillion of assets under management as of Sept. 30, bought Irish and Portuguese bonds at the sales last week, Michael Krautzberger, head of European fixed income at the firm, said in a phone interview yesterday.
'Virtuous Cycle'
"As long as this liquidity rally maintains then we are inclined to stay overweight," holding a greater percentage of the bonds than are in indexes used to monitor performance, Oliver Eichmann, head of money management for the euro area at DWS in Frankfurt, said last week. DWS is a unit of Deutsche Asset & Wealth Management, which oversees the equivalent of about $1.2 trillion. "It's a virtuous cycle," he said.
Euro-area industrial production rose 1.8 percent in November, the biggest increase since May 2010, the European Union's statistics office said yesterday. A separate report last week showed economic confidence in the region improved in December to the highest since July 2011.
While the economy is showing signs of growth, its most-indebted nations face a protracted recovery. Unemployment in the euro area is at a record 12.1 percent and analysts see the region growing 1 percent this year versus 2.6 percent in the U.S., the median of estimates compiled by Bloomberg show.
Economic adjustment in Greece came at "an extremely high socioeconomic cost," Finance Minister Yannis Stournaras said in a letter to the European Parliament dated Jan. 5. "All social groups" were affected by measures linked to bailout conditions and the impact wasn't "uniform or evenly spread," he wrote.
Portuguese Plans
While Portugal's economy has been in recovery since the second quarter of last year, the scale of the blow dealt by the euro crisis means that it's 4.6 percent smaller than it was at the end of 2010, based on data from the nation's statistics institute. The government still has to trim spending by 3.2 billion euros this year to meet targets in its EU-led aid plan after relying mostly on tax increases in 2013.
Portugal is trying to regain full access to bond markets after concern that the region's financial crisis would leave it unable to pay back its debt triggered a surge in yields in 2011.
Today's one-year bill sale attracted bids for 2.26 times the amount allotted, compared with 2.04 times in November. The debt agency also sold 240 million euros of three-month bills at an average yield of 0.495 percent, attracting bids for 4.71 times the amount sold. Portugal also sold 3.25 billion euros of 2019 notes through banks last week.
Portugal's 10-year bonds rose for a fifth day. The yield fell 13 basis points to 5.17 percent at London's 5 p.m. market close, and touched 5.16 percent, the lowest since August 2010. Spain's 10-year yield fell six basis points to 3.76 percent, after reaching 3.67 percent on Jan. 9, the least since 2006.
Portuguese and Spanish bonds returned about 12 percent in the 12 months through yesterday, according to Bloomberg World Bond Indexes. Germany's earned less than 0.1 percent.
Before it's here, it's on the Bloomberg Terminal.
LEARN MORE