business
How Porch Landed a Partnership With Lowe's
By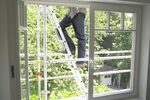 Porch, a year-and-a-half-old startup that helps people find contractors for home improvement projects, announced the kind of partnership on Tuesday that most entrepreneurs can only dream of.  Sales associates in 139 stores at the home improvement giant Lowe's have begun using Porch's website to help customers find local contractors, with plans to expand the service to stores nationwide by the end of the year.
This is a big deal for the 80-person venture, which works by compiling data on past home improvement jobs, sorted by type of project and geographic location. Contractors are listed free but can pay to promote themselves on the site. The selling point of the partnership: If some of the 15 million weekly customers at Lowe's use Porch, paying for more prominent placement is worth it.
Porch, which has raised $6.25 million in funding, has plenty of humps to get over. It faces established competitors in the field of online business directories, not to mention the squeamishness some potential customers might feel at the notion that information about their home renovations will appear online. (Porch says that homeowners remain anonymous.)
I spoke to Porch Chief Executive Officer Matt Ehrlichman about the Lowe's deal, and what it's like to take responsibility for a separate brand's customer. An edited excerpt of our conversation follows.
How did this partnership come together?
We were trying to keep our business very quiet for the better part of a year as we were getting going on aggregating all of this data. As we did start to let the world know we exist, Lowe's found us and reached out.
Oh, they found you. That's not something that other entrepreneurs can replicate.
The key to doing any big partnership like this is: You're not going to trick anyone. You have to be able to do something that's unique. We were fortunate to get connected with Lowe's. We were positioned to do it, though, because we were able to do something that was differentiated, that provides solutions for homeowners that were unlike anything that they had access to. Lowe's caught onto that very quickly, and created a lot of momentum around putting something together.
Now you have to keep homeowners, small businesses, and a publicly traded company happy. How do you do that?
Yeah, it's Porch's responsibility to do a great job. At the same time, Porch isn't recommending professionals, we're surfacing data. An aha! moment at the very beginning was that homeowners don't trust a new company [such as Porch]; they trust people they know; they trust information. If a professional has worked on homes like yours repeatedly, that's a better professional to call than someone who works on completely different types of homes. Our job is to create a trusted home improvement network.
All the same, not every homeowner is going to have a perfect experience with a contractor found through Porch. What happens when a Lowe's customer winds up unhappy?
If you book a restaurant online, you're not going back to the [review site] to complain that your steak wasn't well-cooked. If we can be transparent, and get information from the community, we want to surface that and help neighbors make informed decisions. That's our job.
And if there is blowback?
What happens in the future, I don't know. We launched three-and-a-half months ago. We will learn a tremendous amount. For any entrepreneur, your job is to learn, understand the learning, and be able to iterate. Where we will be in a year is a far cry from where we are today.
Before it's here, it's on the Bloomberg Terminal.
LEARN MORE