Einstein Bros Makes Low-Cal Bagel More Bagel-Like
by
People have strong opinions about bagels. Boiled and chewy, like New York-style bagels? Or steamed, soft, and sandwich-friendly, the way most people in the U.S. eat them? What about Lender's? And don't even get les Montréalais started.
Einstein Noah Chief Executive Officer Jeffrey O'Neill says these debates make being in the bagel business fun. It can also be a challenge.
Take low-calorie bagels, for instance. That might sound like an oxymoron. It's definitely a concept that's difficult to pull off. Einstein Noah, which has more than 840 stores under the Einstein Bros, Noah's New York Bagels, and Manhattan Bagel brands, is determined to do it anyway. The point is to do for bagels what Dunkin' did with its "America Runs on Dunkin'" campaign: suggest to health-conscious customers that this is a store for them, too.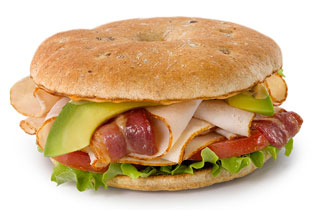 On Monday, Einstein Noah sent Bloomberg Businessweek samples of its reformulated low-calorie bagels, launched earlier this month. They're a response to the problems of the chain's Bagel Thins, which worked fine for sandwiches but were too fragile to hold up to cream cheese, or so customers complained. And they didn't have enough texture. "It is, without a doubt, the greatest failure to date of my once-beloved breakfast stop of choice," said one reviewer on Grubgrade.com. So Einstein made them sturdier and chewier—more bagely, say—than the old product, and is now marketing them as "Thintastic Bagels." Each one has 160 calories or fewer, depending on flavor.
A number of my colleagues thought they were fine, particularly for sandwiches, but admittedly I am one of those people O'Neill says has strong feelings about bagels. I grew up in New York, and just writing this story makes me nostalgic for the days when I was a moneyless high school student and filled up on cheap, hearty deli bagels, toasted with a thick schmear of cream cheese and three slices of tomato. This is my comfort food. To me, Einstein's improved Thintastics are still too fluffy. I missed the firm crust and dense, chewy middle of a New York-style bagel, the feeling that I was eating something substantial, not light.
And that, perhaps, is why I'm having a hard time embracing Thintastics: For me, a bagel just isn't a diet food. Many other Americans will probably appreciate the chain's less caloric approach to bagels. Already, roughly 10 percent of Einstein Bros' sales come from its low-cal Smart Choices Menu, according to O'Neill.
Einstein Noah has seen modest same-store sales growth in nine of the last 12 quarters. The Smart Choices menu, the company has told investors, is now "a key component of our business model." O'Neill remains conscious of the health profile of the menu, noting the salads and yogurts, and even attributing the success of its Nova Lox sandwich in part to the perception that salmon is a healthy fish. Perhaps those same people can be persuaded that the revamped Thintastic bagel is a worthy substitute.
Before it's here, it's on the Bloomberg Terminal.
LEARN MORE