Citi's Ex-Hedge Fund Chief Loses $1 Million in Deep-Sea Treasure Hunt
By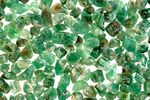 The deal started with a treasure map, supposedly bought from a drifter at a saloon in Key West for $500.
What could possibly go wrong?
For Dean Barr, who ran Citigroup's hedge fund unit until 2007, investing in the X-marks-the-spot Emerald Reef venture has cost him more than $1 million, he said at a trial this week in the Florida island's federal courthouse. "I lost a significant amount of money," Barr testified, according to the Key West Citizen, a newspaper. "I want to get to the bottom of why and who is responsible."
In early 2010, Barr met a real estate investor named Jay Miscovich, who said he'd bought a treasure map that led him to a pile of emeralds on the sea floor. To support the claim he'd found an ancient wreck, Miscovich showed off bags brimming with green stones. Barr invested with Miscovich, whose next step was to seek rights to the wreck and finance the salvage (although his total losses now also include other expenses).
By autumn 2010, Barr had become suspicious. The emeralds had gone missing from a New York City bank vault, and Barr severed ties with Miscovich in 2011, the Citizen reported, citing his testimony and court records.
Their falling-out led to a public dispute over the origin and value of the gems. At issue was whether the emeralds truly were long-lost deep-sea treasure—or cheap stones bought on the modern market and dressed up to lure investors.
In 2012, 60 Minutes broadcast a story that said tests of the gems showed some of them had been treated with a jeweler's polish that had only been in use for the past 50 years or so.
Miscovich, who was never charged with a crime, did not obtain salvage rights to the spot where the emeralds were supposedly found. He committed suicide in October.
Barr's personal losses were revealed this week, in an ongoing trial to determine whether Miscovich's company owes legal fees to a second treasure-hunting company that had challenged his claim to the alleged find site, the Citizen reported.
Reached on his mobile phone, Barr declined to discuss his testimony or his losses. "I really can't comment," he said. "It's still in litigation. Sorry."
Before it's here, it's on the Bloomberg Terminal.
LEARN MORE