Business School Winter Treks: An Economic Indicator?
By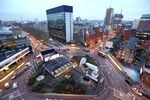 Last week, students from Columbia Business School gathered at the Letterman Digital Arts Center in San Francisco's Presidio district. Vince Ponzo, the new director of the school's entrepreneurship center, gave a talk, and there was a panel discussion featuring startup investors with ties to the school. The main objective of the evening was connecting students with alumni working in Silicon Valley. "I want to make sure they're meeting with alumni, so they can network better and interview better," says Regina Resnick, associate dean for career management at the school.
Winter treks—the school-sponsored trips to visit employers in other cities and countries—are old phenomena. They can also offer a reading on how business school students are feeling about the opportunities available to them.
That's particularly true given that students generally cover all or most of the costs associated with a trek. Columbia estimated the cost of its five-day Silicon Valley trip at about $600. A 10-day trip to meet employers and alumni in Hong Kong and Shanghai cost students at the University of Rochester's Simon Graduate School of Business more than $2,000, according to Ivan Zhongfei Zhang, president of the business school's Asian Club.
What was popular this winter? Trips to New York, London, and other business centers are staples. Emerging markets like China and India are also popular destinations, as is Washington, D.C., where students can meet with a variety of international officials and policy experts.
Students from the energy finance concentration at Duke's Fuqua School of Business visited shale-rich Pittsburgh. MBA candidates at MIT's Sloan School of Management made their annual "tech trek" to the West Coast, where students showed increased interest in hardware companies like Square and SanDisk. At Columbia, the Silicon Valley trip was especially popular. About 75 students participated this year, the biggest group to head West since 2001, when the dot-com bubble was still in the process of collapsing.