As Apple Expands in China, Local Smartphone Brands Look Overseas
by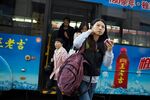 Apple is getting more aggressive in China. Even before Chief Executive Tim Cook met yesterday in Beijing with his counterpart at China Mobile, we knew Apple had made a breakthrough with the country's largest cellular operator. After years of fruitless talks, Apple and China Mobile agreed last month to work together to sell the iPhone to the more than 760 million Chinese users of China Mobile's network.
The two companies have much bigger plans, Cook and China Mobile Chairman Xi Guohua told reporters yesterday. While they didn't reveal details, Cook told the official China Daily newspaper that Apple will target smaller Chinese cities now that it is partners with China Mobile. "Apple will not sell the most, but will create the best products," he said.
Cook is right: Apple won't sell the most phones in China, a market dominated by Samsung Electronics and Chinese brands. He might be worried, though, about what appears to be a disappointing beginning for Apple's partnership with China Mobile. While Xu said yesterday the company had received many millions of preorders for the iPhone, checks with suppliers show preorders have "trended below expectations," according to a Bloomberg News report on Monday citing Cleveland Research analyst Benjamin Bollin.
Fortunately for Apple, China Mobile is likely to push hard to win customers for the 4G network that works with its version of the iPhone 5S and 5C. The operator uses a made-in-China technology standard for its 3G network that has hindered its ability to compete with its smaller rivals, but now that the government has given operators permission to operate 4G networks, China Mobile is willing to offer customers low-priced deals to reestablish its dominance. People who sign up for China Mobile's LTE service could pay just half of what they would pay for slower 3G coverage from China Unicom and China Telecom, according to a report published by Citigroup analyst Bin Liu last week.
Even if China Mobile and Apple don't meet expectations of 12 million new iPhone sales this year, closer ties between the two heavyweights will likely make business more challenging for some of the top Chinese brands. Local smartphone makers such as Xiaomi, Huawei Technologies, and Lenovo rely on their home market of China and other parts of Asia for the bulk of their smartphone sales. More than 500,000 developers are writing apps in China for Apple's iOS operating system, and with Apple now working with China Mobile as well as the country's other two carriers, China Unicom and China Telecom, the local brands face more pressure to reduce their reliance on the home market by winning more customers in other parts of the world.
Executives at the biggest Chinese maker of smartphones, Huawei Technologies, are working on that. The Shenzhen-based company has traditionally relied on equipment sales to telecom operators and other corporate customers but is now making a greater effort to build its consumer business. Overall sales jumped 8 percent last year, the company announced today, to between 238 billion yuan ($39.4 billion) and 240 billion yuan, and operating profit will be about 29 billion yuan.
Huawei is making progress building its smartphone business. The company had smartphone shipments of more than 52 million last year, more than 60 percent higher than 2012, Richard Yu, CEO of Huawei's consumer business group, said in a statement released last week at the Consumer Electronics Show in Las Vegas. It was No. 3 behind Samsung and Apple in IDC's rankings of global smartphone shipments in the quarter ended September.
Still, there's a major gap between Huawei and the Big Two, with the Chinese company commanding a market share of just 4.8 percent, compared with Samsung's 31.4 percent and Apple's 13.1 percent. Yu's deputy is Colin Giles, a former president of Nokia's China business whom Huawei hired last July as part of the company's push to build its handset business outside China.
Huawei isn't the only Chinese company enlisting big-name foreign execs to help boost overseas sales. Xiaomi made a splash last August by hiring Hugo Barra, formerly vice president of Android product development at Google, to help guide its forays into new markets beyond China. Xiaomi's CEO, Lei Jun, announced on Dec. 31 his goal of shipping at least 40 million smartphones this year, up from 18.7 million in 2013. Lenovo's boss has big ambitions, too. The company sells phones in 10 markets and wants to add 20 more, CEO Yang Yuanqing said in November.
Before it's here, it's on the Bloomberg Terminal.
LEARN MORE