Why Japan's Suntory Is Bidding So Much for Bourbon-Maker Beam
by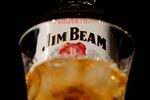 The company paying for Bill Murray's trip to Japan in Lost in Translation is going to be the new owner of Jim Beam bourbon. Suntory, maker of Japanese whiskey and beer, announced on Jan. 13 a $16 billion bid for Beam. Suntory's offer was so generous, with a 25 percent premium, that the Japanese company probably doesn't have to worry about getting into a bidding war with any rival. "They paid so much that they might actually have precluded others from joining the fray," Edward Jones & Co. analyst Jack Russo told Bloomberg News.
Why pay so much for Beam? In part, Suntory can benefit from Abenomics. The yen is weakening and interest rates are low, so the company can borrow money at home to pay for the deal and then use dollar-based revenues from abroad to pay for it.
Moreover, the company doesn't have a lot of options in its home market. With Japan's population getting older and fewer every year, companies such as Suntory need to look for growth opportunities elsewhere. The country's population shrank by 244,000 people in 2013, according to estimates released by the Japanese Health Ministry on New Year's Day. Not only was that the seventh consecutive year of decline, it was the biggest drop ever.
More than 25 percent of the Japanese population is already aged 65 or older, and there's no sign the trend will reverse. So companies that typically focus on younger customers are trying to reduce their reliance on the aging home market. Seven & I, the Japanese company that owns the 7-Eleven chain of convenience stores, and Japan Tobacco are among those aiming to grow overseas. "Japanese industry feels really good about Abenomics, they feel good about 2014," Ian Bremmer, founder and president of Eurasia Group, told Bloomberg Television."They understand that the Japanese market itself is not where they want to throw all that cash."
For instance, Fast Retailing, the Japanese company that owns clothing brand Uniqlo, is making a major push overseas. Japan accounted for 71 percent of revenue in the fiscal year ending August 2013, down from 82 percent in 2011 and 77 percent in 2012, according to data compiled by Bloomberg. The company wants to launch from 20 to 30 stores a year in the U.S., part of a broader effort to add another 200 to 300 shops annually in foreign countries.
The overseas strategy has been paying off for Uniqlo's parent: In the quarter ending in November, Fast Retailing's overseas sales jumped 77 percent, more than 40 times faster than sales in Japan. To help Fast Retailing achieve its overseas goals, President Tadashi Yanai, the richest person in Japan, has been on a talent hunt, hiring executives from such rival retailers as Wal-Mart, Esprit, Juicy Couture, and American Eagle. "We need them as leaders in each region so that we can make decisions more quickly," Chief Financial Officer Takeshi Okazi said on Jan. 9.
Japanese grocery stores are going abroad, too. FamilyMart, one of the largest operators of convenience stores in the country, increased its overseas outlets by 75 percent over the past five years, to 12,700 stores, in the fiscal year ending February 2013. That compares to 9,481 shops in Japan, a 28 percent increase over the total in 2009. Aeon, which operates supermarkets, opened its first shopping mall in Vietnam on Saturday, with the official Vietnam Investment Review reporting that Aeon President Motoya Okada said the company plans to add more. "We need to quickly develop our second and third malls in Vietnam," Okada said at the opening of Aeon's mall near Ho Chi Minh City. The Japanese retailer wants to have as many as 20 malls in the country by the end of the decade.
Before it's here, it's on the Bloomberg Terminal.
LEARN MORE