Indonesia Wants to Keep Commodity Refining at Home
The nation plans to graduate from being a commodity economy
by , , and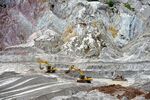 Indonesia has an unusual message for China: Stop buying our raw minerals. Indonesian mines account for about 16 percent of the world's mined nickel supply and about 18 percent of its bauxite, used to make aluminum. China has been importing ever-larger amounts of these and other minerals from its Asian neighbor. Yet the more the Chinese buy, the angrier the Indonesians have become. Because China buys the raw rocks and does its own processing, it is depriving Indonesians of jobs and tax revenue. More than 271,000 metric tons of nickel were mined in Indonesia last year, but only about 16,000 tons were processed inside the country, according to Bloomberg Industries. For the same period, China refined almost 565,000 tons of nickel, which is used to make stainless steel. Through much of last year, China stockpiled Indonesian nickel and bauxite to hedge against any action on exports the government in Jakarta might take.
"I just returned from China, and I saw with my own eyes 3 million tons of bauxite and 20 million tons of nickel ore over there," Indonesia Industry Minister M.S. Hidayat told reporters on Jan. 8. "That's what we want to stop." Other countries, too, want to graduate from simple commodity economies to something more advanced.
On Jan. 12 the Indonesian government banned companies from exporting nickel ore and other raw minerals such as gold and copper unless they processed the ore first. "No more ore exports," Energy and Mineral Resources Minister Jero Wacik said in December. "There should be refining or smelting." Processed nickel is much more valuable than raw ore.
There's a catch: Indonesia has very few refiners and smelters. The government hopes the export ban will force multinationals such as Newmont Mining to build these facilities in Indonesia. Newmont, based in suburban Denver, has a $1.5 billion copper processing facility in Indonesia. The company has signed deals with two local partners who plan to build more smelters.
The ban isn't ironclad. Responding to objections from Newmont and Freeport-McMoRan Copper & Gold, the government of President Susilo Bambang Yudhoyono is creating a temporary loophole, permitting companies to export copper concentrates, a mix of copper and gold ores that has applications in the wire and cable industries, until 2017.
Indonesia is the latest mineral-rich country to take action against mining companies that want to export local ore and process it somewhere else. In Africa, officials of the Democratic Republic of the Congo, frustrated by the unwillingness of big multinational miners to process ore in the country, have considered an export ban, though the earliest it would be imposed is 2015. "There's a frustration level with these big economies that come in and suck out low-cost ma-terial," says Kenneth Hoffman, senior analyst with Bloomberg Industries. If Indonesia succeeds in getting mining companies to invest in smelters and refineries, "a lot of others would be interested in trying the same thing."
Before it's here, it's on the Bloomberg Terminal.
LEARN MORE