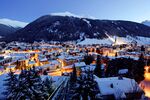 Profound political, economic, social and, above all, technological forces are transforming our lives, communities and institutions. Rapidly crossing geographic, gender and generational boundaries, they are shifting power from traditional hierarchies to networked heterarchies. Yet the international community remains focused on crisis rather than strategically driven in the face of the trends, drivers and opportunities pushing global, regional and industry transformation.
From The Reshaping of the World: Consequences for Society, Politics and Business, World Economic Forum Annual Meeting, Davos-Klosters, Switzerland, Jan. 22-25, 2014
Earth to Davos: The crisis is capitalism's place, given widening inequality, but save that for January 2015.
Later this week, over the weekend, and into the following week, reams of paper will be destroyed announcing the death of Davos. (Digital people! A ream of paper is a quantity of sheets of the same size and quality. Formerly it was 480 sheets—20 quires—for common sizes, such as letter-size paper. … What's a quire?)
Davos is upon us again. Three people today have asked why I go? Translation: Davos is useless. A bunch of helicopter elite on a four-day junket to save the world. The critique misses the mark ever-so-slightly.
The meetings of the World Economic Forum have value. Singularly, I go because it is the greatest mixed and eclectic meeting and mating of smart people known to mankind. Davos is beyond intellectually interesting.
However, those critical score points, there is always a theme decided too early that is past sell-date by the New Year.
The elite meet to greet, and ugly moments do happen. The exhaustion of the May all-nighters of collegiate lore clicks in on Thursday at 11:24 p.m. And yes, there is a tangible out-of-touchedness.
I search for a more current theme.
It has been the Davos of Our Discontent, Bewildered Davos, and Davos Disruptive.
Stealing from the first word of the WEF's great website, 2014 is Davos Profound. (Note: a sad truism of Davos People is that nearly no one reads the killer smart material of the WEF.)
This year, beyond crisis and banker angst, with the upper 7 (?) percent fat and/or happy, Davos will go in search of profound thinking and summations of "traditional hierarchies and networked heterarchies." The hoi polloi are put in the Sikorsky time-out chair for thinking tactically instead of strategically. Heaven forbid, the elite ignore "drivers." This is false. You and I can't imagine the tariff on a 19/4 Davos limo.
Profound thoughts are in order. All the more laughable, given the recent collapse of Basel too-big-too-fail discipline. Here's a partial score: Bankers 1; Macro-prudential Basel …
We are profound.
Actually that's the point. Davos People are so in search of big vision and "transformation" that this year might be interesting. Perchance the tactical, the narrow, the germane will be addressed.
I have to start packing: bow ties, snow boots, Swiss francs, Alka-Seltzer, profound thoughts …
Discuss.
Before it's here, it's on the Bloomberg Terminal.
LEARN MORE