Bin Laden Photos Won't Be Released as Court Spurns Appeal
Greg Stohr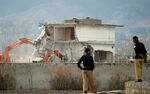 The U.S. Supreme Court refused to order the release of photos of Osama bin Laden's corpse and burial at sea, leaving intact the CIA's classification of those images as top-secret.
The justices today turned away an appeal by Judicial Watch, a conservative watchdog group that filed a Freedom of Information Act suit seeking release of the 2011 photos. A lower court ruled that the classification of the images was proper.
The Obama administration and Central Intelligence Agency said release of the photos would damage national security by inflaming tensions overseas and leading to retaliatory attacks against Americans.
The lawsuit involved 52 images of bin Laden after he was killed during a raid by U.S. special operations forces on his compound in Abbottabad, Pakistan, in May 2011. President Barack Obama said in 2011 that the photos were "very graphic."
Judicial Watch contended that many of the images could be released without exacerbating tensions, including those depicting the preparation of the body for burial and the burial itself.
The case is Judicial Watch v. Department of Defense, 13-238.
Before it's here, it's on the Bloomberg Terminal.
LEARN MORE