Batista Bankruptcy Accord Propels Shipbuilder OSX's Bonds
Peter Millard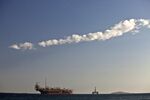 OSX Brasil SA, the shipbuilder founded by former billionaire Eike Batista, is surging to a six-month high in the bond market after its sister company and biggest client moved closer to emerging from bankruptcy.
OSX's $500 million of notes due 2015 have soared 8 cents to 88 cents on the dollar since Dec. 25, when Batista's Oleo & Gas Participacoes SA said creditors agreed to convert $5.8 billion of debt into a 90 percent equity stake, letting the oil company avoid liquidation. The gain is the biggest among emerging-market bonds globally that are secured by collateral pledges, according to data compiled by Bloomberg.
The shipbuilder, which obtained a minority stake in Oleo & Gas in exchange for forgiving $1.5 billion in unpaid bills, will profit as the producer gets as much as $215 million of financing to pump oil at a field that uses an OSX platform, according to Fabiano Santin, an analyst at Kondor Invest.
"You're removing this uncertainty," Santin said in a telephone interview from Sao Paulo. "The tangible assets of this company are much higher than where it is trading."
Batista, once the richest Brazilian with a fortune that topped $30 billion, now has a negative net worth after the collapse of the oil producer, which plans to exit bankruptcy in March. The OSX notes sank 23.5 cents last year on speculation revenue would dry up as the oil producer, formerly known as OGX Petroleo & Gas Participacoes SA, carried out Latin America's biggest-ever corporate default.
Production Results
OSX's bonds held up better than those of Oleo & Gas, whose securities tumbled almost 82 cents, because they're backed by the OSX-3 offshore platform.
OSX didn't immediately respond to an e-mail or telephone call seeking comment on the gains in its bonds. OGX didn't immediately respond to an e-mail seeking comment.
Oleo & Gas began pumping oil in December from Tubarao Martelo in the Campos Basin, where it has failed to produce from other discoveries due to geology that hinders the flow of oil.
The first two wells at Martelo pumped 14,444 barrels a day on Dec. 23, or about $50 million in yearly revenue at current oil prices, Oleo & Gas said in a statement Dec. 24. The company is scheduled to release updated production results on Jan. 15.
"You have cash flow now and the payment capacity of its sole client begins to climb," Michael Roche, an emerging-market strategist at Seaport Group LLC, said in a telephone interview from New York. "We've clearly broken the 2013 down trend."
Interest Payment
OSX said in a Dec. 19 letter posted on the bond trustee's website that production from the field would allow it to make an interest payment on the bond in late January after having missed the payment due in December.
The Martelo field will become "self-sufficient" this year with enough revenue to cover rental fees for the OSX-3 platform, OSX Chief Financial Officer Claudio Zuicker told reporters in Rio de Janeiro on Dec. 18.
OSX filed for protection from creditors in a Brazilian court on Nov. 11 and didn't include its leasing unit, through which it owns its three oil platforms.
At Oleo & Gas's first production project, the Tubarao Azul field, output met initial targets and then faded after several months. There's a risk that could happen at Martelo, in which case OSX would need to find a new client for the platform that backs the bonds and pay to modify the equipment for use at a different oil field, according to Leonardo Brito, an equity fund manager at Rio-based Teorica Investimentos.
Coverage, Recovery
The OSX-3 floating production, storage and offloading platform, or FPSO, that backs the debt was valued at $800 million, according to a March 2012 prospectus for the bonds.
"Investors are comfortable with the collateral," Russell Dallen, the head trader at Caracas Capital Markets, said by phone from Miami.
OSX is already seeking buyers for its other two platforms after the oil fields where Batista planned to deploy the ships failed to produce crude. The OSX-1 platform is currently idled at the Azul field and OSX is studying if it will remain on site or go on the market, Zuicker said. Oleo & Gas is considering re-starting production for several months to see if it can extract additional supplies of crude, Armando Ferreira, the company's reservoir manager, said in Rio on Dec. 17.
"The OSX bond always held its value principally by its asset coverage," Roche said. "The asset recovery is its intrinsic value, and then the payment capacity of its sole client begins to climb."
Before it's here, it's on the Bloomberg Terminal.
LEARN MORE