Rodriguez Suit Challenges Arbitration in MLB Drug Ban
David Glovin and Patricia Hurtado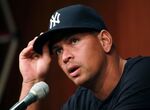 New York Yankees third baseman Alex Rodriguez sued Major League Baseball to overturn his suspension for the 2014 season after arbitrators found "clear and convincing evidence" that he used performance-enhancing drugs.
Rodriguez, 38, filed his lawsuit in Manhattan federal court yesterday, two days after arbitrators found by a 2-1 vote that he "committed multiple violations" of MLB's drug policy, according to a copy of their confidential ruling included in court papers.
The lawsuit accuses MLB of violating the league's collective bargaining agreement by holding a hearing before a biased arbitrator and assails the Major League Baseball Players Association for failing to protect Rodriguez's rights.
"The grievance process was tainted against Mr. Rodriguez, and the arbitration award -- which is based solely upon inadmissible hearsay and selective and unreliable documents and hearsay -- must be vacated," according to the complaint.
Rodriguez's suspension is the longest for doping in baseball history. The 162-game ban, which includes playoffs, will keep the three-time American League Most Valuable Player off the field until the 2015 season, during which he will turn 40.
He will lose his entire salary for the 2014 season, when he was scheduled to make $25 million, according to payroll figures compiled by baseball-reference.com.
All-Star
Rodriguez, a 14-time All-Star, was initially suspended in August after Major League Baseball Commissioner Bud Selig said he used the drugs and tried to obstruct an investigation of Biogenesis of America LLC, a now-closed anti-aging clinic in Coral Gables, Florida. Rodriguez received banned substances from Anthony Bosch, the founder of Biogenesis, according to MLB.
MLB initially imposed a 211-game suspension, which the arbitrators cut to a single season. Rodriguez appealed and was allowed to play the remainder of the 2013 season.
Rodriguez's lawsuit targets the actions of arbitrator Frederic Horowitz, who cast the panel's deciding vote. The other arbitrators came from the players' association and the commissioner's office.
According to the complaint, Horowitz displayed his bias during the hearing by barring Rodriguez from questioning Selig, from fully cross-examining Bosch and from analyzing certain evidence. He also allowed MLB to leak details of its investigation to the media, according to the suit.
'Completely Abdicated'
The players association, meanwhile, "completely abdicated its responsibility to Mr. Rodriguez by not objecting to the leaks and by refusing to act on Rodriguez's ''multiple requests to intervene,'' according to the complaint.
Pat Courtney, a spokesman for Major League Baseball, declined to comment on the suit. Tony Clark, the executive director of the players association, said in a statement that the union has ''vigorously defended Mr. Rodriguez's rights throughout'' the investigation. He called the lawsuit ''baseless.''
Horowitz disregarded the law because he wants to ''keep MLB happy with his decisions'' so he isn't fired, according to Rodriguez's 41-page complaint.
The lawsuit included a copy of the arbitrators' Jan. 11 opinion, which said that Bosch met Rodriguez through a client who was friends with Rodriguez's cousin.
Tampa Meeting
In July 2010, the client arranged for Bosch to meet with Rodriguez after a Yankees game in Tampa, Florida, according to the 36-page opinion. From October 2010 through 2012, Bosch injected Rodriguez with testosterone, human growth hormone and insulin, the panel said.
''In 2011, Bosch met with Rodriguez at least four or five times in New York to draw blood and infuse him intravenously with substances that always included testosterone and HGH," the panel wrote. "Bosch made periodic adjustments to the protocol, which he fully explained to Rodriguez."
The panel included what it said were copies of drug protocols designed for Rodriguez by Bosch.
Testimony from Bosch, who became the chief witness for MLB after it agreed to dismiss a lawsuit against him, was "direct, credible and squarely corroborated" by personal notes he took at the time of the doping and from other sources, the arbitrators said.
Passed Tests
While Rodriguez passed 11 drug tests administered by the league from 2010 through 2012, MLB at the time didn't screen for HGH and insulin, and it was possible to pass the test for testosterone if the substance was taken in a certain way, the arbitrators said.
During the arbitration, Rodriguez argued that "science establishes he did not use" performance-enhancing drugs and that MLB had used "tainted" and coercive means of gathering evidence. He argued that the suspension was too extreme.
A federal judge yesterday denied Rodriguez's request to file part of his case confidentially.
In an interview on CBS's "60 Minutes" that aired Jan. 12, Selig said the penalty he imposed "fit what I saw was the evidence."
"In my judgment, his actions were beyond comprehension," Selig said. "You put all the drug things on one side and then all the things that he did to impede our investigation and really do things that I had never seen any other player do, I think 211 games was a very fair penalty."
Yankees' Statement
Baseball and the Yankees said over the weekend in separate statements that they respect the panel's decision. The players' association said while it disagreed with the ruling, it wouldn't seek to have it overturned.
Bosch told "60 Minutes" that Rodriguez wanted to become the first member of the 800-home run club. He also said after the clinic's records were published, associates of Rodriguez approached him at a restaurant, offered to pay him as much as $25,000 a month and gave him a plane ticket to Colombia.
Joseph Tacopina, a lawyer for Rodriguez, told "60 Minutes" that Rodriguez "didn't bribe anyone."
Rodriguez, who admitted using banned substances from 2001 to 2003 as a member of the Texas Rangers, has denied use of performance-enhancing drugs since joining the Yankees. He filed his original suit in October alleging that Selig and MLB engaged in "vigilante justice" and attempted to destroy his reputation and career. He also claimed Selig and MLB wrongly interfered with his Yankees contract and with his deals to endorse brands including Nike, Pepsi and Wheaties.
The case is Rodriguez v. Major League Baseball, 14-00244, U.S. District Court, Southern District of New York (Manhattan).
Before it's here, it's on the Bloomberg Terminal.
LEARN MORE