Yale Management Professor Alleges Age and Gender Discrimination in Suit
by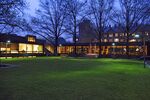 A Yale business school professor is suing the university for gender and age discrimination, alleging that "sexual bias and retaliation" influenced the decision to end her appointment.
Yale School of Management (SOM) professor Constance Bagley brought the suit in U.S. District Court in Connecticut last month, naming the school as well as its dean, Edward Snyder, deputy dean Andrew Metrick and professor Douglas Rae as defendants.
Bagley alleges, "A culture exists within Yale in which strong, assertive and professionally accomplished women who are not stereotypically female in their appearance, behavior and attitudes are viewed negatively because they do not meet certain gender expectations by the dominant male leadership," according to the complaint.
The suit contends that "more than 90 percent of the tenured faculty at Yale SOM are male" and that not a single woman has been granted tenure since 2002. The suit references a study by the Yale Women Faculty Forum claiming "no school at Yale has such a low percentage of senior women."
The lawsuit comes after Bagley tried unsuccessfully, over an 18-month review period, to overturn the school's decision not to renew her contract. Contacted by e-mail, Bagley declined to comment. "I think at this early juncture that it is best to let the complaint speak for itself," she wrote.
Yale spokesman Thomas Conroy, in an e-mail statement, wrote that Professor Bagley's age and gender were irrelevant to the decision not to renew her professorship, which was made following a comprehensive review.
Conroy also said that the business school is committed to increasing the number of women and adding to the faculty's diversity, noting that SOM approved tenure for a female professor in December. The university says 13 percent of tenured faculty positions at SOM are held by women. Women hold 20 percent of tenured positions at the Harvard Business School and 18 percent at Stanford's Graduate School of Business.
Yale School of Management Dean Edward Snyder acknowledged that SOM "does need to make greater efforts to hire women." He noted that Yale was the first Ivy League MBA program to appoint a woman dean. (Sharon Oster served as dean from 2008 to 2011.) In the last two years, he said, of the faculty hired at the entry level position, half have been women. "The point is that efforts to increase diversity on this dimension are showing positive results."
A lack of gender diversity among senior business school faculty is a theme echoed by industry groups, even as female enrollment at top MBA programs is often above 30 percent. At business schools nationally, 13 percent of full-time female faculty have tenured positions vs. 43 percent for men, according to data collected by the Association to Advance Collegiate Schools of Business.
At many business schools, female representation on their governing boards is often lower than at the blue chip companies studied in class. On average, women held 15 percent of business school governing or advisory board seats, according to a 2013 study of 51 top schools from Diversity MBA Prep, an organization that helps women and minorities apply to business school. That compares with 17 percent of corporate board seats held by women at Fortune 500 companies, according to annual census data from Catalyst.
Women made up 39 percent of this year's incoming class at Yale SOM, above the 37 percent average among the six Ivy League schools that offer MBA programs. Women made up a greater proportion of the incoming class at Wharton School (42 percent) and HBS (41 percent); smaller at Columbia (37 percent), Tuck (33 percent), and Cornell (30 percent). Yale SOM counts Pepsi Chief Executive Officer Indra Nooyi among its alumnae—one of only 22 women CEOs leading Fortune 500 companies, according to Catalyst.
Bagley joined Yale from HBS as a visiting professor in 2007. In 2008 she was appointed to Professor in Practice of Law and Management. Yale extended Bagley's contract during its review process, but that expires at yearend.
Before it's here, it's on the Bloomberg Terminal.
LEARN MORE