Business
What's New in Television? More TV Sets Are Being Made in the U.S.
Harold L. Sirkin
What's New in Television? More TV Sets Are Being Made in the U.S.
Harold L. Sirkin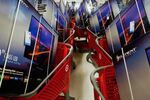 One of the things I like to recommend to consumer goods manufacturing executives is that they take a leisurely stroll through a large antiques mall on occasion, where they'll likely find the history of their industry and the remnants of past highfliers.
They'll also find samples of early advertising and quirky gizmos, gadgets, and individuals—and sometimes all of these things wrapped up in one.
Consider, for example, Earl "Madman" Muntz, the seven-times-married television sales pioneer who in the 1950s and '60s hawked Muntz "TVs" and Muntz Stereo-Paks, forerunner of the 8-track, on television.
"There's something about a Muntz TV," his ads chimed. Today we understand what that something was: They were simple and cheap (some might say shoddy) and appealed to the down-market demographic. "I wanna give 'em away, but Mrs. Muntz won't let me," he'd say in his ads. Muntz understood market segmentation before there was such a concept.
Those were the days when American brands—Admiral, General Electric, Magnavox, Motorola, Philco, RCA, Silvertone, Westinghouse, Zenith—owned the market. In the early 1950s, according to the New York Times, more than 90 U.S. companies made TV sets. In 1953 the (now-defunct) Radio-Electronics-Television Manufacturers Association (Retma) reported almost 7.3 million TVs were made in the U.S. This number grew significantly in later years.
Then the Japanese entered the picture, dominating by the late 1970s. U.S. consumers bolted for Sony and other Japanese brands that were offering superior quality at a better price. One by one, the U.S. manufacturers disappeared. And in 1995 the last remaining U.S. television company, Zenith, was sold to Korea's LG Electronics.
What goes around comes around. Today, TV sets are being produced in the U.S. again. Not on a mammoth scale, but it's a start.
The trend, which coincides with the broader rebound in U.S. manufacturing I've previously discussed (here and here), began in 2012 with Element Electronics of Eden Prairie, Minn. The company is "American-owned," it proudly declares, and its products are totally "American-assembled."
Element began production of flat-screen TVs in March 2012 in a factory in Detroit. More recently, the company announced plans to open a second plant in South Carolina, near Columbia, which will bring an estimated 500 jobs to the area over the next five years.
Unlike Element Electronics, Foxconn Technology Group is not American-owned. It's a Taiwanese company, known in Taipei as Hon Hai Precision Industry. Currently, Foxconn is primarily a contract manufacturer, producing such well-known electronics as Apple's iPad, iPhone, and iPod; Amazon.com's Kindle; Sony's PlayStation 3, and Nintendo's Wii U. But, like many other foreign companies, it has come to recognize the advantages of manufacturing in the U.S.
What does Foxconn want to make here? Display panels and, among other products, TV sets. The company is eyeing Arizona. Talks, according to Chief Executive Officer Terry Gou, have been going on for two years now, ever since Governor Jan Brewer visited him in Taiwan.
Motorola, long out of the TV business, has also joined the "Made in the USA" bandwagon, announcing that it's assembling its Moto X smartphone in the U.S. Likewise, Lenovo, a Chinese company, is cranking out its popular ThinkPad laptops and desktops at a new plant in North Carolina.
Why the growing interest in U.S. manufacturing?
First, because it makes good economic sense. And second, as Lenovo Senior Vice President Peter Hortensius explains: It enables companies to customize and provide services that are impossible "an ocean away."
The "Made in America" trend is real. If Madman Muntz were still around, he'd probably be on TV leading the cheers.