UNC Officials Lash Out at Academic Fraud Whistleblower
Paul M. Barrett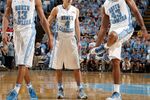 Mary Willingham deserves a medal. As much as anyone in recent years, the University of North Carolina instructor has helped shed light on how big-time college athletics corrupts academics and robs students of the education they deserve.
Rather than honors, Willingham has received insults and a demotion. Now, in a despicable character-assassination campaign, the powers that be at Chapel Hill are calling her a liar. The situation demands national attention because UNC, widely perceived as a paragon public institution, has become ground zero in the conflict between the industry that is Division One sports and the mission of providing higher education.
As I've noted in a series of recent posts (for example, here and here), Chapel Hill offers an especially revelatory example of how higher education suffers under the pressure to keep athletes in the "revenue sports" of football and basketball eligible to play. My dispatches have drawn on three years of investigative work by the News & Observer of Raleigh.
One of the News & Observer's main guides in exposing the erosion of academic standards has been Willingham, a 52-year-old reading specialist with a masters degree in liberal studies who has worked at UNC for 11 years. Among the results so far: the identification of hundreds of sham Afro-American studies classes that never actually met; the criminal fraud indictment of a former long-time Afro-American department chairman; and, in response, a laughable program of obfuscation from top UNC officials. The officials insist that the academic fraud scandal has nothing to do with desperation to pad the grade point averages of football and basketball players. (The National Collegiate Athletic Association, to its discredit, has so far played along with the charade that sports-eligibility anxieties do not explain the UNC debacle.)
This week, CNN added valuable fuel to the fire. The cable network produced an investigative survey showing that at public-university sports powers across the country, dismaying numbers of varsity athletes can barely read or write. UNC played a dubious starring role in the CNN report, and Willingham served as an insider-narrator. She told CNN of one Tar Heel basketball player who couldn't read or write. Another athlete asked her to teach him to read well enough to follow news accounts of his games.
Top administrators, one would assume, immediately called Willingham in, congratulated her, and got to work fixing remaining problems. Nope. In a written statement issued Wednesday, Jan. 8, UNC said of Willingham's account of illiterate varsity athletes: "We do not believe that claim." In other words, her employer accused Willingham of making it up. Why on earth would she do that?
It gets worse. The UNC statement, circulated over the name of spokeswoman Karen Moon, confused matters by suggesting that Willingham had claimed that most student-athletes lack basic academic skills. Continuing to speak in an imperious first-person plural, the "We" that is UNC top management declared they found Willingham's warnings "patently unfair to the many student-athletes who have worked hard in the classroom and on the court and represented our university with distinction."
Let that sink in. UNC's leadership is implying—falsely—that Willingham, a dedicated student advocate and tutor, defamed undergraduate sports team members in general. She had, of course, done no such thing.
In fact, as Willingham explains to me by phone, she is always careful to break down UNC's roughly 800-person varsity student-athlete population as follows: "Four hundred of them at any given time are on the ACC [Atlantic Coast Conference] Honor Roll or the UNC dean's list. They're doing great. Most of them are in the non-revenue sports. Another 200 are doing O.K. And about 150 to 200 are underperforming—some of them badly underperforming. Most of the last group are playing football or men's or women's basketball. We're not serving the best interests of a lot of that last group."
Willingham doesn't rely strictly on her personal experience. As a graduate student (at UNC-Greensboro), she researched the reading levels of a sample of more than 180 UNC-Chapel Hill varsity athletes from 2004 to 2012; 85 percent of them were football and basketball players. Her findings: About 60 percent read at between a fourth-grade and an eighth-grade level. Nearly 10 percent read below a third-grade level. In sum, 70 percent were in no position to succeed academically at a college level.
UNC's response? No comment. "University officials," the Moon statement said, "have not seen that data. University officials have asked for that data, but those requests have not been met."
"That's just disingenuous," Willingham tells me. "They have the data. I got the data from the Athletic Department." UNC had done the screening to determine the athletes' reading, writing, and math levels, she says. When central administration officials mysteriously demanded that Willingham turn over her raw data, she declined because she had made a standard confidentiality pledge to UNC research-ethics monitors not to share the student-related stats with anyone. Central administrative reps "were asking me to violate the confidentiality rules, and then they came down on me for following those rules," she says, sounding truly amazed. "And all this time, the Athletic Department has the raw data."
Diabolical, no?
Willingham has reason to distrust her superiors. After a performance review this spring, she was demoted from her position as assistant director of UNC's Center for Student Success and Academic Counseling. She was moved to an undesirable basement office and consigned to the paperwork-intensive role of advising students on whether they're on track to graduate. "This was punishment for speaking out earlier," she says. She has filed a formal grievance, which is pending.
I contacted spokeswoman Karen Moon to follow up on all of this. She said via e-mail that UNC had nothing more to say for the moment. She also told me that Jan Boxill, the chairwoman of the UNC faculty, whom I've pestered for an interview, "respectfully declines your request for a conversation."
Well, folks, the "conversation" isn't over. What's more, I'll be keeping an eye on how Mary Willingham fares in coming weeks and months.
Before it's here, it's on the Bloomberg Terminal.
LEARN MORE