U.S. Winter-Wheat Acres Unexpectedly Fall as Price Outlook Dims
Jeff Wilson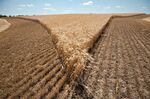 U.S. winter-wheat planting unexpectedly declined for the first time in four years as farmers facing lower projected prices sowed less of the grain in Kansas, Oklahoma and South Dakota.
Farmers planted 41.892 million acres of the grain that will be harvested in May and June, down from 43.09 million a year earlier, the U.S. Department of Agriculture said today in a report. The average estimate of 18 analysts surveyed by Bloomberg News was 43.531 million.
Winter wheat, grown in the Great Plains, Midwest and Pacific Northwest, goes dormant until March. The hard, red variety from the Plains is used in bread, while the soft type is used in cookies and cakes. Winter grades made up 72 percent of the U.S. crop last year.
The USDA also said unsold domestic reserves of all varieties as of Dec. 1 were 1.463 billion bushels, compared with 1.671 billion a year earlier. Analysts expected 1.414 billion.
U.S. inventories before the start of the 2014 harvest on June 1 were forecast at 608 million bushels, compared with 718 million a year earlier. Analysts projected stockpiles would drop to 563 million compared with 575 million estimated by the USDA in December.
Worldwide inventories at the end of May will be 185.4 million metric tons, compared with 182.78 million estimated by the government in December and 176.13 million a year earlier. The analyst survey showed 182.68 million.
Before it's here, it's on the Bloomberg Terminal.
LEARN MORE