Docomo IPhone Offerings Boost Japan User Additions Past Rivals
Mariko Yasu and Takashi Amano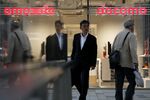 The iPhone is going to make a difference for NTT Docomo Inc. after all.
Japan's largest carrier added more subscribers than rivals for the first time since December 2011, gaining 279,100 net users last month for 62.2 million total customers. That compares with 222,600 more for KDDI Corp. and 224,300 additional users for SoftBank Corp., the companies reported yesterday.
It's a sign Docomo can compete against carriers that have been swiping its customers since they started carrying Apple Inc.'s smartphone. Docomo started selling the iPhone 5s and 5c when they were released in September, ending a holdout that saw smaller competitors win market share and lure customers with Apple's handsets.
"From now, the ranking of the companies will be switching because Docomo offers the iPhone," Satoru Kikuchi, an analyst at SMBC Nikko Securities Inc. in Tokyo said yesterday. "The iPhone strengthens Docomo's foundation."
Docomo had resisted the iPhone to focus on handsets from Sony Corp. and Samsung Electronics Co. and protect its online store dmarket from competition with iTunes. SoftBank was the first of Japan's operators to offer the iPhone when it began sales in 2008 before KDDI followed in 2011.
Docomo's change of fortune is a preview of what may happen for China Mobile Ltd. this year after the world's largest carrier announced it will begin offering the iPhone as it rolls out its new fourth-generation network. Like Docomo, China Mobile is its country's last major carrier to offer the Apple device.
'IPhone Effect'
Apple sold three of every four smartphones in Japan in October, the first full month after new models were released, market researcher Kantar Worldpanel ComTech said Nov. 28.
Shares of Docomo rose 2 percent to close at 1,749 yen in Tokyo trading yesterday, the highest in five years. The stock's 39 percent advance last year lagged behind the 51 percent surge of the broader Topix index.
"It's the iPhone effect," Tomoaki Kawasaki, an analyst at Iwai Cosmo Holdings Inc. in Tokyo, said by phone. "All three major carriers offer the iPhone now so it will likely be a competition of connectivity, services and content offerings as they vie for subscribers."
The main reason Docomo added more new users than other carriers is because it began offering the iPhone, said Hiroko Shimoyama, a company spokeswoman. Discounts for the Apple handset also helped lure subscribers, she said.
SoftBank, which almost tripled in value last year, rose 1.1 percent in Tokyo trading yesterday. KDDI, whose market value more than doubled in 2013, dropped 0.6 percent yesterday.
Before it's here, it's on the Bloomberg Terminal.
LEARN MORE