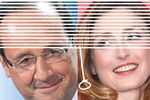 French law prohibits the news media from prying into the private lives of public figures. Yet they're doing it more and more, as the magazine Closer demonstrated on Jan. 10 when it published seven pages of photos documenting an alleged affair between President François Hollande and actress Julie Gayet. The same day, his companion Valérie Trierweiler, France's first lady, checked into a hospital to "get some rest and have some tests," her office said.
Hollande issued a statement saying he "strongly deplores the attack on his private life" but said he wouldn't sue. Odds are he'd win if he took the magazine to court. Closer removed the story from its website after Gayet's lawyer obtained what the magazine described as a "very clear" legal injunction: It's illegal in France for newspapers or magazines to publish pictures of famous people engaged in private activities without their consent.
Closer's photos show a man, purportedly Hollande, wearing a motorcycle helmet arriving at a Paris apartment building on the back of a motor scooter, followed a few minutes later by a woman strongly resembling Gayet. The next morning, each of them is shown emerging from the building. Neither Hollande nor Gayet has denied the authenticity of the photos.
Though the pictures were pulled from Closer's online edition, the magazine remains on newsstands—French judges generally don't require offending publications to be removed from circulation unless they're deemed a threat to public order. Closer's publisher, the Mondadori media group, owned by former Italian Prime Minister Silvio Berlusconi, says it printed an extra 300,000 copies, doubling the usual press run, after supplies ran low.
Penalties for invasion of celebrities' privacy are so light that the tabloid press treats them as a cost of doing business. In 2007, Hollande and Trierweiler sued Closer after it published photos of them vacationing in Morocco. At the time, Hollande had been publicly supporting the presidential campaign of Ségolène Royal—his longtime companion with whom he has four children—while seeing Trierweiler on the side. Hollande and Trierweiler won their lawsuit, but got only €15,000 ($20,500).
At a Jan. 14 press conference, Hollande rebuffed questions about his private life but promised he would clarify the status of his relationship with Trierweiler before a scheduled Feb. 11 state visit to the U.S.
For decades French media sat on stories about politicians' personal lives. Former President François Mitterrand raised a child with his mistress in a Paris apartment while his wife lived in the Elysée Palace. Journalists gossiped about it among themselves but didn't report it. Paris Match Editor-in-Chief Alain Genestar was fired after the magazine published photos of Nicolas Sarkozy's then-wife, Cécilia, vacationing in New York with another man in 2006. Genestar told the French newspaper Le Monde that he was removed after Sarkozy complained to the magazine's chairman.
More recently, however, the tabloid press has become bolder—perhaps because of fierce competition for a shrinking readership. Closer's paid circulation plummeted from 533,000 in 2008 to 342,000 last year, and Paris Match's is 651,700, down from 708,200 five years ago.
There are also signs that the public is losing its patience with politicians who frolic amid a listless economy. "If the guy was at least doing a great job as president, we could say, 'OK, he's earned the right to have some fun,' " says Guy Andreini, a retired naval officer, expressing a view heard all around France in recent days.
Many political leaders have sided with Hollande in attacking the magazine. Some, though, have questioned why government-paid bodyguards appeared to be escorting the president to private trysts. "If the revelations of Closer are confirmed, we should also question the status of Valérie Trierweiler," tweeted conservative lawmaker Daniel Fasquelle. "Is it normal that she remains in the Elysée at taxpayer expense while the president has other relationships?"
I'll See You in Court
Cécilia Attías
In 2007, Closer paid Nicolas Sarkozy's ex-wife €30,000 after publishing a photograph of her in a bathing suit next to a picture of a bikini-clad Carla Bruni, the Italian model and singer whom Sarkozy had started dating and later married.
 
Ségolène Royal
After her breakup with Hollande, the mother of his four children sued Paris Match twice in 2009 for publishing photos of her with a man identified as her companion. She asked for €108,000.She got €31,000.
 
British Royal Family
Sued Closer in 2012 for publishing photos of Kate Middleton, the Duchess of Cambridge, sunbathing topless on the French Riviera. The royal family didn't ask for monetary damages, but the magazine was ordered to pay €2,000 in court costs and to hand over all copies of the pictures.
 
Dominique Strauss-Kahn
Asked for €50,000 in damages in a suit against Voici magazine in 2012 for publishing photos of him with a woman identified as his new companion.He got €5,000.
Before it's here, it's on the Bloomberg Terminal.
LEARN MORE