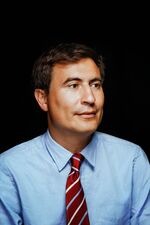 On Oct. 11, the U.K. government sold a majority stake in Royal Mail Plc, the British postal service, in an initial public offering. Interest from both retail and institutional investors was strong. When the trading frenzy died down, two names emerged with large positions: Lansdowne Partners Ltd. and The Children's Investment Fund Management UK LLP.
Royal Mail was a good investment for the two London-based hedge-fund managers, as shares soared 38 percent on the first day of trading and were up 70 percent as of Jan. 9.
It was that kind of year for the two firms, and for a handful of other London-based hedge funds that focus on equities, Bloomberg Markets magazine will report in its February issue. Lansdowne's $1.5 billion Developed Markets Strategic Investment Fund, or SIF, climbed 44.5 percent in the first 10 months of the year, making it the best-performing large hedge fund in Europe and No. 4 globally in Bloomberg Markets' annual ranking.
The Children's Investment fund, known as TCI, led by founder Christopher Hohn, returned 39.7 percent over the same period for its $7.3 billion fund, fifth best in the global ranking and second best among large European funds.
A smaller London-based hedge-fund firm, Clareville Capital Partners LLP, outperformed them all. Its $291 million Pegasus Fund jumped 54.1 percent in the first 10 months of the year, making it Europe's best-performing fund over $250 million, and the No.5 midsize fund in the world, according to the Bloomberg Markets rankings.
Profits Galore
Lansdowne and TCI made big money for their owners as well as their investors. SIF is an offshoot of Lansdowne's main fund, Developed Markets, which invests $8.9 billion and was No. 15. Both Developed Markets funds are run by Stuart Roden, Peter Davies and Jonathon Regis. The main fund made $413 million in profit for Lansdowne managers, while TCI shared profit of $492.5 million among Hohn and his managers, according to data compiled by Bloomberg.
The European hedge-fund standouts shared one characteristic: Like the U.S.-based funds at the top of the ranking, they profited enormously from big bets on a small number of companies.
"Rising markets like we had in 2013 benefit a concentrated fund far more than they do someone with, say, 1.5 percent of their assets in each stock," says Marcus Storr, who oversees $1 billion in hedge-fund investments at Bad Homburg, Germany–based Feri Trust GmbH.
Concentrated Holdings
While Hohn, 47, is well-known for his activist investing -- buying large stakes in companies and publicly pressuring management to make changes that might drive up the share price -- a person familiar with the fund says the manager never counts on activism to lead to higher stock prices. Instead, he focuses on buying the shares of good companies cheaply.
In 2013, TCI put a lot of faith in its best ideas. Its top five holdings can take up almost 75 percent of its total assets, according to an investor.
"We run a concentrated investment portfolio, with about 10 to 12 core positions," TCI partner Oscar Veldhuijzen told Bloomberg News in May.
One of those positions was in European Aeronautic, Defence & Space Co., or EADS, which changed its name to Airbus Group in January. The fund built a stake in EADS after its proposed merger with BAE Systems Plc collapsed in October 2012. EADS shares then climbed 72 percent in the first 10 months of 2013.
In August 2013, Hohn tried to drive the price still higher by pushing EADS to sell its 46 percent stake in Paris-based Dassault Aviation SA and distribute the proceeds to shareholders. It hasn't done so.
Privatization Plays
Hohn and TCI also invest in government privatizations. "Governments are just about the worst owner of a company you could find," Hohn said at the Sohn Investment Conference in London on Oct. 31. "They mismanage them in every way possible. When those companies move from government ownership to privately owned, these companies transform." And investors like Hohn can make serious money.
In addition to Royal Mail, TCI's privatization plays include its 5.9 percent stake in Aurizon Holdings Ltd., an Australian railroad that the Queensland government privatized in 2010. The shares rose 28 percent in 2013 through October and have returned more than 100 percent, including reinvested dividends, since its privatization.
Until 2012, TCI's big profits would have also meant a windfall for the Children's Investment Fund Foundation, a charity Hohn established with his American wife, Jamie Cooper-Hohn, in 2003, a year before launching his hedge fund. Cooper-Hohn, 48, is the charity's chairwoman.
Cooper-Hohn Divorce
The couple, who met while both were attending Harvard University, filed for divorce in October, and the hedge fund has stopped contributing to the charity, according to regulatory filings and a person familiar with the hedge fund.
The CIFF, which fights child poverty in developing countries, in the past received a third of TCI's 1.5 percent management fee and 0.5 percent of profits over 11 percent. It has more than 2 billion pounds ($3.3 billion) in assets and gave away more than 220 million pounds from its inception through August 2012, the most-recent figures available.
Hohn, who until 2012 used Cooper-Hohn as his surname, declined to be interviewed for this article.
Deep Analysis
Lansdowne's main office is a modern terra-cotta–and-glass building in Mayfair, the upscale district favored by the London hedge-fund industry. On the building's ground floor is a Cipriani restaurant; around the corner is a Bentley dealership, while the surrounding storefronts are peppered with yacht brokerages, art galleries and pricey wine shops.
For the 80 analysts and traders Lansdowne employs, it's all business. The atmosphere in the office is like that in a library at the University of Oxford, says one person with knowledge of the firm. In that rarefied air, the SIF's Davies and Roden; William de Winton, manager of the No. 62 Global Financials Fund; and their teams do deep analyses of sectors and companies. They're long-term investors in most of the stocks they choose. All declined to be interviewed for this story.
Lansdowne's returns were bolstered in 2013 by its concentrated bets on airlines and financials. In the case of the airlines, the fund's analysts concluded they were poised for a rebound after having been out of favor for several years, according to investors and quarterly reports. The SIF and Developed Markets funds invested more than 20 percent of their assets in each sector, while the Global Financials Fund invested in banks and other financial institutions around the world, reports to investors show.
Flying Delta
The firm was right about both sectors. Lansdowne's holdings in 2013 included Delta Air Lines Inc., whose stock price more than doubled over the course of the year; International Consolidated Airlines Group SA, or IAG, which was up 88 percent through Oct. 31; and Dublin-based discount airline Ryanair Holdings Plc, which climbed 29 percent in the period. Lansdowne's financial holdings across all three funds included JPMorgan Chase & Co., Lloyds Banking Group Plc, UBS AG and Wells Fargo & Co. Lloyds was up 62 percent in the first 10 months of the year, while JPMorgan was the laggard of that group, with its shares climbing a still-respectable 17 percent.
Lansdowne was founded in 1998 by Paul Ruddock, a former executive at asset manager Schroders Plc, and Steven Heinz, an Austria native who had been trading stocks for Harvard's endowment fund. In 2001, the firm hired Davies, 41, and Roden, 50, who had been managing money together at Merrill Lynch & Co. The pair were put in charge of the new Developed Markets Fund, which has returned an average of about 14 percent every year since its start in 2001. They launched the SIF in July 2007.
A Good Year
Like the main Developed Markets Fund, SIF invests in companies around the world. Its 44.5 percent return in 2013 stands in contrast to its modest 4.4 percent average annual gain since it started.
Lansdowne also sells companies short, borrowing shares and selling them with the expectation they can be bought later at a lower price. In 2013, its shorts included enterprise software companies, whose "business models look likely to be seriously disrupted by new cloud-based or open-source competitors," Davies and Roden wrote in a July letter to investors. They also shorted Tesco and other hypermarket companies, retailers that combine a department store with a supermarket.
The SIF and Developed Markets funds have similar holdings in their largest positions. The SIF sells different companies short, can invest in unlisted securities and buys smaller companies than the large- and mega-cap names that dominate the Developed Markets Fund.
Buying Timber
Smaller names such as Montreal-based Eacom Timber Corp. helped the SIF power past the larger fund in 2013. Eacom shares, which Lansdowne first bought in 2010, jumped almost 50 percent after the firm received a takeover offer in March. The company produces lumber and other wood products at mills in eastern Canada.
Ruddock, Lansdowne's co-founder and former chief executive officer, was an unusual hedge-fund head. He never managed money himself. He handled sales, marketing, legal and compliance issues and let others pick the stocks. He retired in mid-2013 at age 54 to focus on charity work, which includes being chairman of London's Victoria & Albert Museum and a trustee of the Metropolitan Museum of Art in New York.
Lansdowne replaced him with Alexander Snow, a 44-year-old former professional rugby player who founded Evolution Group Plc, a London-based stockbroker, in 2001. He sold that firm to Investec Plc in 2011 for 230 million pounds and took the reins at Lansdowne in September.
Low Profile
Snow has so far kept a low public profile; he declined to be interviewed. While Ruddock made occasional news -- he was a donor to the U.K.'s Conservative Party and was knighted in 2012 for his philanthropy -- Lansdowne has always shunned the spotlight.
At Clareville Capital, the duo who manage the Pegasus Fund, the best-performing midsize fund in Europe, also profited by taking large positions in a few companies. The firm was founded in 1996 by David Yarrow, 47, a former stockbroker and director of equities at NatWest Securities. He manages the firm's money with Angus Donaldson, also 47 and a fellow Scotsman whom Yarrow brought on board in 2008.
Their portfolio has returned an average of 12.4 percent a year since its start.
The small firm's offices are in a converted town house in Sloane Square, about 2 kilometers (1 1⁄4 miles) southwest of Mayfair. Besides Yarrow and Donaldson, there are two analysts, a trader and a sales executive.
Balance Disrupters
Clareville buys mostly U.K. stocks and likes to buy shares of what Donaldson calls disruptors -- companies that are taking market share by upsetting the traditional balances within a sector. One of Clareville's biggest holdings last year was Bedfordshire, England–based discount airline EasyJet Plc, which rose 65 percent through October. Like Lansdowne, Clareville also saw profits from IAG, which, at 10 percent of the fund's assets, was its largest holding at the end of October.
"We're quite comfortable with putting 10 percent of our fund in a high-conviction position," Donaldson says.
Other high-conviction stocks that brought gains to the fund: online property site Rightmove Plc, up 85 percent through Oct. 31; Dixons Retail Plc, which climbed 72 percent through October; and food wholesaler Booker Group Plc, up 54 percent.
When he's not studying company financials, Yarrow is an accomplished wildlife photographer. In 2013, he published his second book of photographs, and in the fall, he displayed his work at London's Saatchi Gallery.
Serious Bungle
Seeded among the prescient bets by the year's top hedge-fund managers were some serious bungles. Davies and Roden told investors in Lansdowne's April letter that the firm lost a "meaningful" amount of money when it closed a short position in London-based insurance and investment firm Prudential Plc.
The hedge fund had been shorting the stock since at least January 2009; shares climbed 170 percent from that point to March 2013, when Lansdowne closed the short position. Davies and Roden's thesis was, one, that Prudential's profits in Asia were unsustainable and, two, that its variable annuities business was subpar. The company proved them wrong, with record profits in both segments.
Nonetheless, Davies and Roden said in the April letter they still believed the shares were overvalued, and Lansdowne shorted Prudential again later in the year, regulatory filings show. Prudential shares kept climbing, rising 14 percent from mid-March to Oct. 31.
The investing blunder is proof of the old adage: If you put all your eggs in one basket -- or in this case a few baskets -- some are bound to get broken.
Before it's here, it's on the Bloomberg Terminal.
LEARN MORE