Farmers Balk at Tyson's New Guidelines for Pig Well-Being
by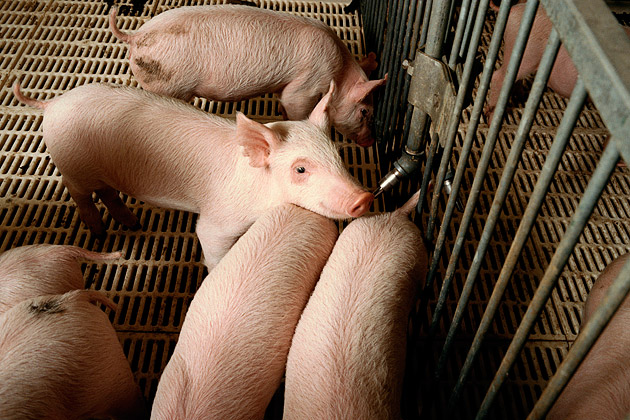 Meat processors and farmers disagree about the best way to raise pigs. In a letter (PDF) to its independent pork suppliers on Wednesday, Tyson issued recommendations to improve pig well-being, like reducing pain and giving the animals more space. It will also be increasing sow farm audits.
Shortly after Tyson's announcement, the National Pork Board, which represents pig farmers, issued its own statement pointing out "a number of important issues raised by today's announcement." Chris Novak, the group's chief executive officer, says, "All of us share a commitment that we want to do what's right, what's best for our animals." But, the board argues, farmers and veterinarians should be able to independently make decisions for their farms, without company mandates.
The dispute comes as consumer concern about where their food comes from hits new heights. Tyson's pig farming practices were the subject of a Mercy for Animals video, which led the company to end its contract with a supplier last year. More restaurants are committing to buying responsibly raised meat, including McDonald's, which recently vowed to buy sustainable beef (though there is no universal definition of "sustainable" yet).
Some specific discrepancies in the pork board's statement: While Tyson wants farmers to mitigate piglets' pain during tail docking and castration, the board points out that there are no approved medications for this. Second, it says Tyson's recommendation to use video monitoring in sow farms "can add significant cost to the farmer." Third, Tyson wants farmers to stop euthanizing unhealthy piglets using manual blunt force, but the board argues it's a recommended method by the American Veterinary Medical Association (PDF). And while the company wants farmers to improve the "quality and quantity of space" in sow housing, the board says other, more open forms of housing also have disadvantages, such as increasing the risk of injury to farmworkers.
Earlier this week, another major meat producer weighed in on farming practices. Smithfield Foods promised deal extensions to contract farmers who converted to group housing for pregnant sows, allowing them to move around compared with gestation stalls.
"We know more of our customers and consumers want assurance their food is being produced responsibly," said Tyson spokesman Gary Mickelson in an e-mail. "That's why we've initiated on-farm audits and formed an animal well-being advisory panel, while continuing to research ways to improve how farm animals are raised."
Yet Novak argues some farm practices, like docking tails, are best for the animal but difficult for consumers to understand. His point highlights one big difference between the sides: Well-known processors like Tyson, which also handle the marketing of products, must bend to their customers' and consumers' changing expectations for food. Farmers, meanwhile, must balance those demands with operational issues on farms like safety and efficiency.
For farmers, it's also a matter of cost, says Jeff Schahczenski, agriculture policy and funding research director for the National Center for Appropriate Technology. "Producers who have contracts with Tyson and Smithfield have already invested in their systems. Now these companies want them to invest more, and their margins will go down. If Tyson offers more money per pound, then maybe they'd want to do it."
Before it's here, it's on the Bloomberg Terminal.
LEARN MORE