Vimeo's a Star for IAC, Thanks to Filmmakers
IAC looks to the video site to bolster its growth
by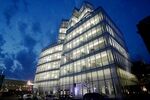 Among big consumer Web businesses, there may be no tougher battlefield than video sharing. With Amazon.com, Hulu, Netflix, and Google's YouTube among the companies fighting for viewers' time, it can be difficult for even a well-financed competitor to attract attention. For video connoisseurs, though, the mainstream services leave a big gap: None combine the reliable, ad-free HD video of Netflix with the kind of marketplace democracy that birthed YouTube's endless stream of cat videos. It's a gap that Vimeo, the video-sharing site loved by artsy filmmakers and long ignored by the market, is starting to fill.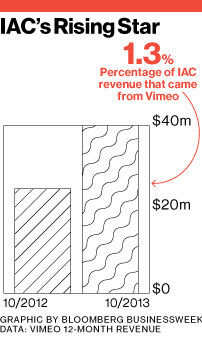 Ad-free since its founding in 2004, Vimeo receives about 100 million unique viewers a month through its home page and from other sites that embed its video player, according to Chief Executive Officer Kerry Trainor. Of its 22 million registered users, about 400,000 professional and would-be professional artists pay a premium to upload greater numbers of higher-quality videos. On Jan. 7 the company said it has shifted its default video player from Adobe Systems' Flash to HTML5, which simplifies posting to social media and halves load times. The new player also makes it easier for viewers to buy or rent videos through Vimeo's year-old on-demand service, which has attracted filmmakers. They set the on-demand prices for their videos and pay Vimeo as much as $199 a year.
"That to us is the lead step in terms of starting to monetize our audience," Trainor says. "We are extremely bullish on it." Vimeo's revenue jumped 60 percent, to $40 million, in the 12 months ended in September, making the site a sudden star within parent company IAC/InterActiveCorp.
Since an executive reshuffle last month, Trainor reports directly to Barry Diller, the billionaire chairman of IAC's grab bag of about 50 Web companies. (Its two biggest businesses are dating-site division Match Group and search sites like About.com and Ask.com.) Although company filings show Vimeo made up 1.3 percent of IAC's $2.8 billion in revenue last year, "They view Vimeo as one of the best assets of the company," says John Blackledge, an analyst for investment bank Cowen Group.
Vimeo was founded in 2004 by Zach Klein, who now runs the children's site DIY, and Jake Lodwick, now at software startup Elepath. The two incorporated Vimeo under the umbrella of then-employer Connected Ventures, the parent of comedy site CollegeHumor, and initially used it as a home for their own professional and personal videos. IAC bought a controlling stake in Connected Ventures in 2006. Over the next few years, Vimeo began to accept HD video and charge users to upload top-quality files or for extra hosting space. Later, the company changed its fee structure, charging for-profit business ventures more than individual artists to host videos.
The company introduced its on-demand video service to lure more filmmakers and boost subscription sales. So far the site's 4,400 on-demand videos fall somewhere between Netflix's original series and YouTube. Academy Award-winner Malcolm Clarke posted The Lady in Number 6, a documentary on a piano-playing Holocaust survivor. Sondra Martin Hicks says she posted Faith Under Fire, her award-winning docudrama about a Texas church shooting, because she can charge for it without having to negotiate with Netflix or a similar service. Lighter fare includes the comedy Sox: A Family's Best Friend, about a dog with magic powers.
IAC doesn't have the kind of advantage with video sharing it does in the online dating game, where it owns Match.com, OkCupid, and Tinder, along with a bevy of niche websites. Market researcher ComScore ranked Vimeo ninth in the U.S. for video viewers in November. Yet with single-digit growth at the long-reliable search division, Trainor says the corporate reshuffling "certainly reflects that Vimeo continues to grow and become more of a part of IAC's story."
Before it's here, it's on the Bloomberg Terminal.
LEARN MORE