Another University Gets Into the Health-Care MBA Boom
By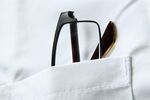 Health-care professionals have been pouring into business schools for the better part of two decades, hoping to parlay a business education into a career opportunity in a fast-growing and maddeningly complex field.
The University of Georgia is the latest school to respond to the demand for a health-care MBA. Beginning in the fall, the university will offer a dual-degree program from its College of Public Health and the Terry College of Business. The program is designed for business school students who want an expertise in health care, or public-health students interested in business, according to a press release. The University of California at Berkeley's Haas School of Business and Yale School of Management also offer joint MBA-MPH degrees.
The rise of the health-care MBA is usually traced to the late 1990s, when the University of California at Irvine and other medical schools began offering joint MD-MBA programs. About 50 percent of medical schools offer the joint degree, according to the Boston Globe. Last year the University of Indiana's Kelley School of Business announced a program tailored specifically for midcareer doctors seeking to climb the management ladder.
Health-care specializations have also gained popularity at more traditional business school programs. Duke University's Fuqua School of Business has seen fivefold growth in its health sector management certificate program since 2001, as well as a spike in applications from doctors in recent years. Health care accounts for one in five EMBA candidates at MIT's Sloan School of Management.
Students in the University of Georgia's new program will study health-care policy and economics at the College of Public Health and management at Terry during the three-year program. That will put graduates back in the job market in 2017. With the U.S. Bureau of Labor Statistics predicting health care will add 5 million jobs in the decade ending in 2022, they'll likely have better prospects than some of their business school peers.