Moving the World Cup to Autumn Would Mess With Fox
By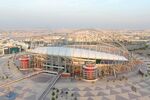 The good folks at the Fédération Internationale de Football Association (FIFA) left soccer fans scratching their heads again yesterday when Jérôme Valcke, secretary general of global soccer's governing body, said in a radio interview that the 2022 World Cup in Qatar would not be played during the traditional June-July window. His comments were quickly followed by a FIFA spokesperson saying that Valcke had been expressing only "his view" and that no final decision had been made about shifting the event to fall or winter months.
Qatar in summer, as one stadium architect told me recently, is basically "Phoenix meets New Orleans." And this isn't the first sign that officials are considering shifting the 2022 World Cup into a more hospitable season. Last September, for instance, FIFA President Sepp Blatter called a schedule change the "responsible" thing to do.
But such a move would be a massive disruption to international soccer. Teams in the English Premier League and across Europe would have to adjust their schedules or else find a way to divvy players between club and country. Training timetables would be destroyed. And then there are FIFA's many sponsors and media partners.
In the U.S., Fox Sports and NBC Universal's Telemundo paid a combined $1 billion for television rights for the 2018 World Cup in Russia and the 2022 event. Since Fox's share is about $400 million for the two international soccer tournaments, that makes Qatar a $200 million investment for the network. At first blush, a move to the fall or winter would be a major problem. The summer is relative blank spot in the sports and general programming schedules, an empty season where a World Cup fits quite nicely.
"Fox has plenty of broadcast hours available in June and July and not a whole lot of hours available in November, December, January," says Neal Pilson, former president of CBS Sports and founder of Pilson Communications. "There is a sport in the U.S. that we identify with Fox pretty closely called professional football. Plus, they have their normal competitive, in-season, prime-time schedule."
According to Pilson, who negotiated with the NBA and other sports properties during his CBS tenure, the contract between FIFA and Fox is almost certainly conditional on the standard calendar and open to renegotiation. Yet figuring out how to adjust it, if at all, is a complicated process. (Luckily, Fox has eight years to work on it.) The time change between Qatar and the U.S., eight hours on the East Coast, works in Fox's favor. World Cup matches could be slotted in the morning and early afternoon without disrupting Sunday NFL telecasts or prime-time shows.
Plus, Fox has its new 24-hour cable sports network, Fox Sports 1, to help fill out coverage. Moving matches to the cable channel would be a double-edged sword. It boosts ratings and exposure for the channel but saps advertising revenue.
As Pilson points out, a shift to the fall might even help Fox, since larger audiences are watching TV in general that time of year. "The easy thought is, 'Oh jeez, it would be a problem for Fox,'" he says. "But you begin to see a way for Fox to schedule it on a reasonably coherent basis." If the network can do so, and if, after a thorough financial analysis, they calculate minimal damage, Fox would probably give FIFA a pass with an eye to the next round of negotiations. "If it's $5 million or $10 million, you probably eat it," says Pilson. "If it's $50 million, then you may want to talk about it."
Before it's here, it's on the Bloomberg Terminal.
LEARN MORE