The Good News Behind Macy's Hefty Layoffs
By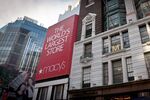 Typically, it's not considered a bullish indicator when a company lays off thousands of workers. Then there's Macy's, which announced cuts this week on the heels of a holiday shopping season that was by most accounts meager.
Layoffs at the department store giant came alongside several coups. Macy's said same-store sales in the past two months increased by 4.3 percent over the year-earlier period—thoroughly respectable particularly given JC Penney's decision to not reveal holiday sales numbers. Meanwhile, Macy's also forecast 2014 profit of $4.40 to $4.50 per share, well ahead of analyst expectations.
"They are a running a good business, and hats off," Stifel Financial Analyst Richard Jaffe told Bloomberg.
Through that lens, the company's decision to lay off 2,500 workers and close five stores looks quite different—possibly even rosy. Admittedly, it's bleak for the soon-to-be-unemployed, but Macy's said the moves will save $100 million a year. Meanwhile, its total head count of 175,000 will be static because the company is opening stores elsewhere and hiring in other areas.
More importantly, the announcement shows Macy's is strong enough to withstand a little bloodletting; the retailer has faith in its better-performing shops and burgeoning Web platform. It isn't treating the Internet as an afterthought or a turnaround Hail Mary (which seems to be the case atSears); it's another tool in the kit.
Thanks to that fearlessness, and the rosy profit forecast, Macy's shares are up 7 percent this morning.
Much has been made about the crippling costs of brick-and-mortar stores in the age of Amazon.com. And Web-only retailers like Bonobos were the darlings of the industry for some time. But savvy analysts note hundreds of big buildings—in Macy's case, almost 850—full of cash registers make for a robust distribution network.
The sooner department store chains start treating their real estate like warehouses, the better their odds of survival. Amazon is building warehouses as fast as it can to prop up its two-day shipping program; Macy's doesn't need to. To take advantage, though, Macy's needs to make shifts such as letting consumers order online and pick up in stores and vice versa, as well as decentralizing inventory decisions in favor of a more local model.
Here's some interesting language from the recent Macy's release: "In some cases, Macy's stores are being reallocated within the seven regions and 60 districts to equalize workloads and spans of control."
You read that correctly—"spans of control." Doesn't sound like an old-fashioned department store does it?