The Edifice Complex Driving Turkey's Scandal
Prime Minister Erdogan's obsession with building triggers a probe
By and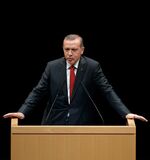 An hour's drive north of Istanbul, two giant concrete towers flank the Bosporus, one in Asia, the other in Europe. By 2015 a $2.5 billion suspension bridge will hang between the towers, which will reach 322 meters (1,056 feet). Nearby, a Manhattan-size swath of forest is being readied for a $14 billion airport, one of the world's largest.
The projects continue a decade-long $200 billion public works plan undertaken by Prime Minister Recep Tayyip Erdogan that strengthens Turkey's ambitions as a regional power. After arrests that targeted Turkish politicians and businessmen close to Erdogan, the building sites now risk becoming emblems of the corruption and largesse that prosecutors say has permeated Erdogan's designs for a new Turkey.
Executives from companies building the bridge and airport are among the 100 people arrested, questioned, or sought by prosecutors since news of a 15-month secret investigation broke in December. Also ensnared were the sons of three cabinet ministers, the chief executive of a state-run bank, and a construction magnate who's become one of Turkey's richest men. The three ministers have resigned.
Although there have been no formal indictments, at least a dozen suspects remain in custody on charges ranging from taking bribes to rigging bids on government contracts. Many of the allegations involve the public works that helped Erdogan prop up the economy and bolster an Islamic business class loyal to his Justice and Development Party (AKP). "The growth miracle of Turkey was largely due to construction," says Atilla Yesilada, an Istanbul-based analyst at Global Source Partners, a New York economic adviser. "If these allegations have a single grain of truth to them, then it turns out that Turkey's development model is not only skewed but also corrupt. It's really disturbing."
Erdogan vows that anyone guilty of corruption will be punished. He calls the probe an attempt to derail Turkey's transformation. The prime minister has overseen growth of more than 5 percent a year since 2002. In the same period, inflation fell from more than 70 percent to 7.4 percent. Behind the probe, according to Erdogan and the AKP, is Fethullah Gulen, a 75-year-old diabetic cleric based in Pennsylvania's Poconos. He runs a network of Islamic schools that has influence with Turkey's police and judiciary. Gulen once worked with Erdogan but now criticizes the regime. He doesn't have the "slightest involvement in or knowledge about" the inquiry, says Orhan Erdemli, Gulen's lawyer.
Prominent companies in Erdogan's Turkey include Calik Holding, run until Jan. 1 by Erdogan's son-in-law. Calik, which has energy and construction interests, hasn't been named in the probe. Another construction company, Cengiz Insaat, is run by Mehmet Cengiz, who sits with Erdogan's son on the board of a charity at a university named after Erdogan, and who is from Erdogan's hometown. Cengiz Insaat is part of the consortium that won the bid to build and operate the new airport. Cengiz's name showed up on a list of those wanted for questioning in a second roundup. It never happened, because the police refused to carry out prosecutors' orders, Radikal newspaper reported on Dec. 27. Cengiz did not respond to a call and text message and has made no public statement.
The Agaoglu Group, which lists more than 20 real estate projects in the Istanbul area on its website, said in a statement on Dec. 17 that Chairman Ali Agaoglu had been called in for questioning as part of a "wide-ranging investigation regarding public services." TOKI, the publicly traded arm of the state housing authority, said two of its board members had been questioned. Calls to TOKI weren't answered. Muammer Akkas, the prosecutor who ran the probe, said on Dec. 26 that he had been taken off the case.
The pro-Erdogan media don't refute the allegations of corruption, arguing instead that a speedy bidding process was essential in these projects, says Global Source's Yesilada. The normal process was fairly transparent until just before the airport contract was put up for bids. "This last point is so important that we feel the need to rephrase," he wrote clients on Dec. 29. "The pro-AKP press does not deny the charges, but refuses to define them as 'crimes.' "
The AKP smells a plot to deny Turkey its destiny. "Is it a coincidence that the businessmen who were building, or going to be building, the third airport and bridge were requested to be taken in?" asked party spokesman Huseyin Celik on Twitter. "Maybe the real goal could be sabotage?" Celik didn't respond to a text message. Erdogan's spokesman, Lutfullah Goktas, directed questions to Minister of European Union Affairs Mevlut Cavusoglu. His staff said he wasn't able to respond immediately.
Mustafa Sonmez, a writer and economist who wrote Media, Culture, Money and Power in Istanbul, estimates that in the last 11 years, $583 billion has been spent on construction, citing the Turkish Statistical Institute. "These megaprojects, there [is] an opportunity for corruption in areas such as building permits," he says. "And of course, if you are a friend of Erdogan or a relative, there are some advantages."

BOTTOM LINE -
The bottom line: A prosecutor's probe into bid-rigging and bribes has rattled Turkey's leader, his party, and the country's new magnates.
Before it's here, it's on the Bloomberg Terminal.
LEARN MORE