In Mississippi, NASA's $350 Million Tower of Pork
Congress orders NASA to finish a testing tower for a dead program
By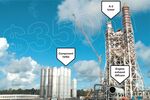 Early this year, NASA will complete work on a $350 million tower to test rocket engines at the John C. Stennis Space Center in Mississippi. When it's finished, the 300-foot steel-frame facility will stand unused—because the agency doesn't need it. The engines it was supposed to test were part of a Bush-era space program that was canceled in 2010. And NASA isn't developing any new rockets that would require the A-3 tower for testing. You might think congressional leaders scouring the federal budget for fat would have welcomed such an obvious, painless cut. Instead, its funding survived thanks to Mississippi Republican Senators Roger Wicker, who wrote an amendment to a 2010 NASA bill requiring the agency to wrap up the work, and Thad Cochran, who advocated for the spending from his seat on the Appropriations Committee.
With more than 5,000 workers, the Stennis Space Center is the largest employer in Hancock County, on Mississippi's Gulf Coast. The A-3 tower is the first major test structure built at the center since the 1960s. Stennis "is a magnet for public and private research investment because of infrastructure projects like the A-3," Wicker wrote in an e-mail explaining his efforts to continue funding it. "I authored an amendment to require the completion of that particular project, ensuring the Stennis facility is prepared for ever-changing technologies and demands."
It's not clear how the tower will accomplish that. A relic of President George W. Bush's Constellation program, it was intended to test engines for rockets that would carry U.S. astronauts back to the moon and beyond after the space shuttle's retirement in 2011. President Obama proposed ending the program in 2010 following rising costs and delays. At the time, NASA already had spent $292 million on the A-3 structure. Since then, it's spent an additional $57 million to keep building it, according to a February 2013 report by the agency's inspector general, Paul Martin. Testifying before the House space subcommittee in September, Martin highlighted the A-3 as an example of how lawmakers, looking to keep federal dollars flowing to their states, can block efforts to cut unnecessary spending. "The political context in which NASA operates often impedes its efforts to reduce infrastructure," he said.
The tower, built to support liquid oxygen and liquid hydrogen tanks weighing as much as 320,000 pounds apiece, is made of millions of pounds of steel and includes chemical steam-generator units that would have been used to simulate an engine's ability to power a rocket to altitudes up to 100,000 feet. NASA isn't going to let all that unused equipment turn to rust. Spokeswoman Karen Northon says the agency will maintain the unused structure, in case it's needed in the future. That will cost taxpayers a mere $840,000 a year.
BOTTOM LINE -
The bottom line: Mississippi senators kept millions in federal dollars flowing to the state for a rocket-testing tower NASA doesn't need.
Before it's here, it's on the Bloomberg Terminal.
LEARN MORE