Fannie and Freddie's New Boss Could Reshape Mortgage Finance
The two firms' new regulator has broad powers and a big to-do list
By and


Mel Watt hadn't even been sworn in as the head of the Federal Housing Finance Agency when at 9 p.m. on the Friday before Christmas he e-mailed reporters from his personal account saying he would put on hold planned increases in fees Fannie Mae and Freddie Mac charge for insuring mortgage securities. With a three-sentence message, he signaled a break from his predecessor and hinted at how he'll shape the future of the two firms that guarantee about 60 percent of new U.S. mortgages.
Watt, whose first day on the job was Jan. 6, is regarded by consumer advocates as a potential champion for troubled homeowners and by bond managers as a possible threat to the value of their investments. The chief of the FHFA, Fannie and Freddie's regulator, has been circumspect as to his intentions. Watt "is really a bit of an enigma," says Mortgage Bankers Association President David Stevens. "You don't know exactly where he's going to head." Watt, a former U.S. representative from North Carolina, declined to be interviewed for this story.
His predecessor, Edward DeMarco, the career bureaucrat who had headed the FHFA since 2009, won accolades from Republicans for his efforts to put Fannie and Freddie on firmer financial footing and to gradually shrink their footprint in the housing market. Watt is inheriting a lengthy list of pending decisions, including whether to reduce the maximum size of mortgages that Fannie and Freddie can finance. The ceiling varies depending on the location of the property and runs as high as $629,500 in high-cost markets. A reduction potentially would hurt homeowners, because banks charge more for mortgages they can't sell to the two firms. Institutions that underwrite so-called jumbo mortgages would favor the move, as it would expand their share of the market.
Another decision that awaits Watt: how to expand a program started last year to reduce the risk of losses to Fannie and Freddie on certain loans by selling bonds or purchasing additional insurance. The FHFA also needs to respond to criticism from developers, lenders, and advocates of affordable housing about its plans to shrink the financing available for apartment buildings after a 10 percent cut last year.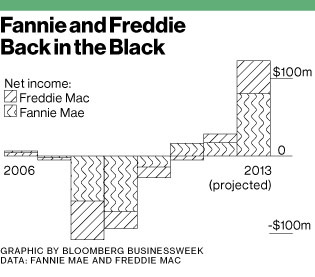 Republicans initially blocked Watt's confirmation, but he was approved in December after the Senate changed its filibuster rules. There's an expectation that with a Democrat in charge of the FHFA its policies will more closely dovetail with efforts by the Obama administration to overhaul the $9 trillion U.S. mortgage system. The White House is working with a coalition of Democratic and Republican senators on a bill to replace Fannie and Freddie with a government-owned reinsurer of mortgage bonds backed by private capital. Getting legislation approved and implemented may take as long as a decade, according to congressional testimony. In the meantime, Watt will likely enjoy unusual latitude in establishing policies.
Mortgage bond investors are already girding for Watt to expand the Home Affordable Refinance Program (HARP), which allows a homeowner with little or no home equity to refinance, potentially damaging the value of their investments. Bank of America analysts have said he may loosen the program's criteria for eligibility, extending the cutoff date to include loans made after mid-2009.
Consumer advocates support broadening HARP and also want Watt to revisit the idea of allowing Fannie and Freddie to reduce the loan balances of delinquent homeowners—which DeMarco studied and rejected because of concerns that it would add to the two mortgage companies' costs. Some of Watt's room to maneuver may be limited by forces outside his control. Rising interest rates are reducing the pool of borrowers who could reap savings from refinancing even with expanded qualification rules. Also, climbing home prices may dampen the urgency of reducing borrowers' principal.
Watt's December e-mail pleased mortgage bankers and others in the housing industry who had complained that the hikes that were to go into effect in March and April were too steep and too sudden. The move appears to run counter to DeMarco's efforts to curb Fannie and Freddie's role in the housing market by creating incentives for other firms to compete for the business. Peter Wallison, a senior fellow at the American Enterprise Institute, says he's not surprised by Watt's decision. "That is certainly along the lines of what I expect Mel to do," says Wallison, a frequent critic of government housing policies, "to follow the guidance he's getting from people on the left and government-housing complex about what FHFA should be doing."
BOTTOM LINE -
The bottom line: Policies put in place by Obama's housing regulator could reshape the $9 trillion mortgage finance system.
Before it's here, it's on the Bloomberg Terminal.
LEARN MORE