business
No More Low Balls in Soccer Rights Auctions
Newcomers helped double the price to air Europe's top matches
By , , and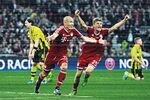 Just as soccer underdog Arsenal Football Club has shaken up England's Premier League this season, up-and-coming sports broadcasters in Europe are causing trouble for rivals that have long dominated the business. Pay-TV services from British Sky Broadcasting Group to France's Canal Plus are in danger of being priced out of the sport they've ruled for more than a decade, with new entrants such as telecom giant-cum-content producer BT Group in the U.K. and BeIN Sport in France bidding up rights contracts to as much as double their previous level. "In the world of sports content, the only thing you can be sure of is there's somebody who's got a check that's bigger than their business plan," Sky Deutschland Chief Executive Officer Brian Sullivan said at a November media conference in Barcelona.

At stake is one of the globe's biggest live TV audiences. About 173 million soccer fans watched Germany's Bayern Munich and Borussia Dortmund square off in the Champions League final of the Union of European Football Associations (UEFA) last season. As a new round of rights auctions approaches, more established broadcasters face giving up some of their most popular programming or shelling out far more for licenses. Both options pose a threat to profit. BT's purchase of rights for England's Premier League means Sky customers have missed out on some Arsenal games this season. The club holds the league's top spot more than halfway through the season, boosting the chances that the title will be won by a team other than Chelsea or one of the two Manchester squads for the first time in a decade.
BT outbid British pay-TV market leader BSkyB for U.K. rights to the UEFA Champions League and UEFA Europa League. And the two companies are splitting rights to the Premier League, giving BT most of the biggest European contests. "BT is doing to Sky what Sky did to everyone else years ago when it used its cash to knock out competition," says Ian Whittaker, a media analyst at Liberum Capital in London.
The phone company says the prices it's paying make sense as part of a broader business strategy to use must-see sports programming to win users for its broadband service. BT's sports channels will be available free to its Internet customers, with the exception of a yet-to-be-determined fee for European league games. BT offered £897 million ($1.47 billion) over three years for live UEFA league broadcasts beginning in 2015. That's more than twice what BSkyB and its partner ITV paid for the previous three years, Sanford C. Bernstein estimates. In June 2012, BT's aggressive bidding helped almost double the price for Premier League games when it competed with Sky for 154 English matches. Sky got 116 games while BT won 38 for the 2013-14 season. The auction raised £3.02 billion, vs. £1.77 billion the previous season, the league said.
Some customers may decamp to cheaper online services or illegal streaming websites if broadcasters hike subscription rates to recoup those hefty investments, but that hasn't stopped the expensive dealmaking. Sky Deutschland in 2012 won rights to broadcast Germany's Bundesliga soccer matches, beating rivals including Deutsche Telekom, another former phone monopoly expanding to other services. In France, newcomer BeIN Sport, set up by Qatar broadcaster Al Jazeera, beat out Vivendi's Canal Plus for rights to most Champions League matches in the last round of bidding. France's rugby league this month said it's breaking an exclusive deal with Canal Plus so it can auction broadcast rights to the highest bidder. "We don't think they're grabbing customers from us, but it's definitely having an impact on programming costs," Vivendi Chief Financial Officer Philippe Capron said at the Barcelona conference. Al Jazeera representatives didn't respond to e-mails seeking comment.
The amount broadcasters have to pay for rights will likely keep rising as pay-TV, currently in about half of British homes, continues to expand, according to Dan Jones, a partner in the sports business group of consulting firm Deloitte. The biggest beneficiaries of the increase are soccer clubs, but if they use the windfall to boost player salaries and build stronger teams, it's money well spent, Jones says. "The only reason people buy tickets, T-shirts, and TV subscriptions is because of what the guys are doing on the pitch," he says. The clubs "deserve to reap the rewards."
Before it's here, it's on the Bloomberg Terminal.
LEARN MORE