Christie Bridge Traffic Scandal Probed by Prosecutors
David Voreacos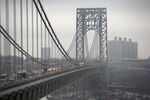 Federal prosecutors in New Jersey opened a probe into the scandal prompted when aides to Governor Chris Christie triggered a days-long traffic jam near the George Washington Bridge as an act of political revenge.
U.S. Attorney Paul J. Fishman entered the fray on a day of rapid developments when Christie said he was "embarrassed and humiliated" by his aides and fired one of them. A Christie ally then refused to answer questions by a state Assembly committee, asserting his constitutional right against self-incrimination after a judge said she wouldn't block a subpoena summoning him.
"Our office is reviewing the matter to determine whether a federal law was implicated," Rebekah Carmichael, a spokeswoman for Fishman, said in a statement.
Superior Court Judge Mary Jacobson in Trenton refused an emergency bid by David Wildstein to block his testimony about four days of lane closures leading to the George Washington Bridge, which connects with Manhattan. Wildstein, who was a top executive at the Port Authority of New York and New Jersey, ordered the closures. The ensuing traffic snarls have increasingly tarnished the image of Christie, a Republican weighing a run for president.
Wildstein asserted his Fifth Amendment right more than two dozen times in response to questions at a hearing in the State House.
E-mails and texts released yesterday show that top Christie aides discussed closing the lanes from Sept. 9 to Sept. 12 as a way to punish the Democratic mayor of Fort Lee, Mark Sokolich. Sokolich didn't cross party lines and support Christie in his successful re-election bid last fall.
'Traffic Problems'
"Time for some traffic problems in Fort Lee," Bridget Anne Kelly, Christie's deputy chief of staff for legislative and intergovernmental affairs, wrote to Wildstein on Aug. 13.
"Got it," replied Wildstein, a high school friend of Christie. The governor fired Kelly today. Wildstein resigned from the Port Authority Dec. 6.
As a result of the lane closures, motorists were delayed for hours in trying to cross the Hudson River into New York. The Record newspaper reported that the traffic snarls delayed paramedics from getting to an unconscious 91-year-old woman who later died of cardiac arrest.
On the fifth day, officials on the New York side reopened lanes, easing the flow over a section of Interstate 95 that the Port Authority calls the busiest bridge in the world.
"We are appropriately going nuts," Wildstein wrote to Kelly on Sept. 13, as traffic flowed. David Samson, Christie's appointee as Port Authority chairman, was "helping us to retaliate" for easing the backups, Wildstein wrote.
Proper Authority
Wildstein, who was subpoenaed by the Transportation, Public Works and Independent Works Committee, claimed in an emergency court filing that the legislature lacked the authority to compel his testimony. He also said Assemblyman John Wisniewski, a Democrat, issued the subpoena without proper authority and may not have signed it.
"This is an abuse of power by a legislative committee," Wildstein's attorney, Alan Zegas, argued at a court hearing in Trenton. "This is a matter of whether power by a governmental branch has been lawfully exercised."
Zegas also claimed that the committee overstepped its authority, which includes overseeing Port Authority finances.
At the hearing, committee attorney Leon Sokol argued that Jacobson doesn't have the authority to quash the subpoena.
"You'd be frustrating the ability of the Legislature to conduct its legislative authority," Sokol said. "You have to allow this process to go forward, allow the committee to call the witness."
Proper Authority
Jacobson said that a legislative committee had the proper authority to subpoena Wildstein.
"There is jurisdiction to give a subpoena," Jacobson said. "There's no reason for the court to assume any bad faith on the part of this legislative committee. Where there's a legitimate public end, it's immaterial whether a political motivation is also present."
At a press conference today, Christie apologized for the traffic jam and said Kelly, the aide he fired, lied to him when he asked his senior staff a month ago whether they knew about the lane closings.
The Port Authority's Office of Inspector General referred the case to Fishman, according to Carmichael.
Before it's here, it's on the Bloomberg Terminal.
LEARN MORE