China's National Economic Census Aims to Combat Questionable Statistics
By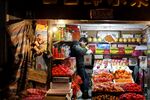 "Industriously carry out the economic census, everyone build a moderately prosperous society." "Economic census: strive for the truth, strive for reality, strive for development." Adorned on city lampposts and walls, the red banners herald the launch of China's once-every-five-year canvass of companies and industries.
"The third national economic census is a significant survey of the whole society and national economy," said Vice Premier Zhang Gaoli on Jan. 3 in Beijing, while stressing the importance of accuracy in information gathering, the official Xinhua News Agency reported.
Nearly 3 million people will collect data on more than 10 million companies and 60 million self-employed households, including ownership status, number of employees, and financial situation. The survey, launched on Jan. 1, will last for three months, with results to be announced in the second half of this year.
"Refusal to register accurate data, leaking of census data by census officials and institutions, and tampering with data will all be dealt with seriously," warned National Bureau of Statistics chief Ma Jiantang on Jan. 1, reported Xinhua.
Chinese leaders hope to bring credibility to the country's notoriously dodgy statistics as they prepare to push sweeping economic reforms. The statistics bureau separately announced plans on Jan. 7 to standardize data gathering across the country's 31 provinces. Local authorities regularly report a combined GDP figure that surpasses China's national economy by a wide margin—more than 10 percent in 2011, for example.
A statement at the close of a key economic policy-setting party meeting in early December in Beijing said China would end its longtime tradition of promoting local officials based on GDP growth, a practice that has contributed to the overreporting.
The figures that go into China's gross domestic product are "man-made" and "for reference only," said China's future premier Li Keqiang in 2007. Li's blunt appraisal, made when he was party secretary of the northeastern province of Liaoning, was revealed in a diplomatic cable published by WikiLeaks in late 2010.
Before it's here, it's on the Bloomberg Terminal.
LEARN MORE