A Peek at China's Local Debt Mess
The provinces, counties, and townships owe almost $3 trillion
by
For months, investors have wondered about the scale of China's local government debt. A report issued on Dec. 30 by the National Audit Office offers some clues. Borrowing by provinces, counties, and townships reached 17.9 trillion yuan ($2.96 trillion) as of June.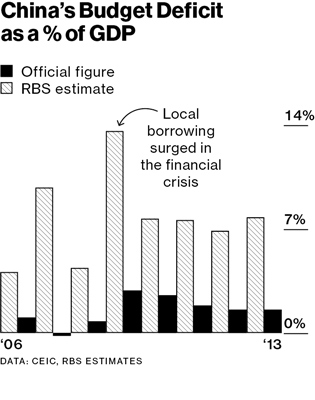 Local debt has grown 63 percent since the end of 2010, much faster than the 40 percent expansion of the economy. "Overall government debt and local government debt levels remain manageable," wrote Wang Tao, chief China economist at UBS Securities, in a Dec. 31 note. But "the pace of debt accumulation in recent years has been alarming."
These numbers include the liabilities of more than 10,000 nonbank lenders local governments set up to bypass limits on direct borrowing. Also included is the debt of some state-owned enterprises. The audit office, which labels these debts "contingent liabilities," says they topped 7 trillion yuan, up 75 percent since 2010. Investors believe the central government implicitly guarantees this debt, though Beijing isn't legally bound to honor all of it. Localities "have used the name of the government to borrow, but the government won't necessarily repay the debt [unless] it becomes a regional or systemic problem," says Chen Xingdong, chief China economist at BNP Paribas. "That is very worrisome." With these and other liabilities folded into the budget, the deficit dwarfs the official figure.
The audit reveals how local governments have evaded Beijing's attempts to stop excessive borrowing. Loans from banks made up about four-fifths of total local government borrowing in 2010. It's only 57 percent now. The balance comes from locally issued bonds and the barely regulated shadow banking network, which includes finance companies known as trusts that can lend at a rate a couple of percentage points above the benchmark interest rate of 6 percent.
The National Development and Reform Commission, the state planning agency, announced on Jan. 2 that localities can issue special bonds to help pay off debt due later in 2014. Policymakers are testing a local property tax and considering resource and consumption taxes as well as a shift in some local government expenses to the central government. This move to the center is important since President Xi Jinping and Premier Li Keqiang plan to spend heavily on health care, education, and pensions.
At a December meeting with Xi and Li, policymakers decided that for local officials "debt will become an important measure of performance, as will transparent auditing of how loans are raised," according to the summary of the conference. Such efforts to reduce reliance on debt-fueled growth risk a slowdown from 7.5 percent to 7 percent or less, predict Arthur Kroeber and Rosealea Yao, analysts at GK Dragonomics. They wrote in a recent client note, "The big question is not whether the local-government debt problem will spark some sort of financial catastrophe. Clearly it will not." Rather, the issue is how the trade-off between deleveraging and growth will play out."
Before it's here, it's on the Bloomberg Terminal.
LEARN MORE