IRobot Wants to Prove Americans Love Robots, Too
By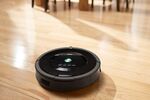 One of the most enduring tech-related racial stereotypes is the belief that Japanese people are naturally drawn to robots. Explanations usually begin with the animism of the country's traditional Shinto faith, which posits that even inanimate objects have souls, and follow with the fact that American robotics has its roots in the military, while Japan's industry has always focused on manufacturing friendly assistants. Occasionally, anime will be mentioned.
The experience of Colin Angle, the chief executive officer of IRobot, seems to bear this out—his company has had increasing success peddling its floor-cleaning robots overseas, even as sales have stagnated in the U.S. The company's revenue grew 30 percent in Japan in the third quarter of 2013, compared with the same period a year earlier, while U.S. sales grew 8 percent. Revenue from its U.S. business has dropped both as a percentage of overall sales and in absolute terms over the last five years.

But Angle's explanation of this phenomenon is more mundane: marketing. He says the company's Japanese partners spent more than four times as much marketing its robots in Japan than it did in the U.S. This year it's planning to make a big ad push domestically. The theory better be true, because advertising budgets are more easily tinkered with than deep-seated cultural affinities.
"I've seen less of the robot-craze attitude driving sales in Japan," Angle says. "Everyone wants their floors vacuumed by a robot."
Or, more to the point, scrubbed by a robot. At this year's International Consumer Electronics Show, IRobot introduced its latest home-cleaning robot, the Scooba 450. It's designed as a mopping alternative, buzzing around your floors and using new water as it cleans, unlike an analog mop, which keeps dipping back into the same dirty bucket. "Even if it wasn't a robot, it would be a big step forward for how people's floors are scrubbed," Angle says.
The company's urgency is inspired in part by growing competition. When IRobot began selling the Roomba vacuuming robot, the idea seemed insanely novel, but that was 10 years ago. The robot-vacuum market is increasingly crowded on the low end by Chinese IRobot knockoffs, which it has attempted to shut down by charging patent violations, and by big-name companies such as Sharp, Samsung Electronics, and LG Electronics.
While scrubbing and vacuuming are the plan for 2014, Angle expects an increasing proportion of IRobot's business to come from robots that allow someone to sit in California and control a robot that interacts with colleagues in Boston. In fact, that's exactly what IRobot's chief technical officer does now. Within two or three years, Angle expects such machines to make up 25 percent of his company's business, up from essentially nothing today.
It's a time for big dreams for robot makers. The industry is riding a wave of excitement in the wake of Google's acquisition of eight robotic companies, most recently Boston Dynamics, which makes crazy dog-resembling robot companions intended for military use. In the days after the acquisition, IRobot's stock price spiked, gaining more than 27 percent.
Angle foresees a time when his robots and Google's will join forces. He's a longtime acquaintance of Andy Rubin, who's in charge of Google's robotics push. While Angle says he has no inside information about what Google is working on, he indulged in some "uninformed speculation based on real facts that I believe to be true."
Google's robotics acquisitions, Angle believes, are part of a logistics network based on the company's autonomous automobiles. "It seems to me most likely that over time, Andy is going to be working the last 10 feet of package delivery, once the car shows up," he says. "And of course, our mission is that, once Andy's there delivering packages, we'll have millions of robots in the door to open the door and say thank you very much."
This is going to be huge in Japan.
Before it's here, it's on the Bloomberg Terminal.
LEARN MORE