A Tale of Two Daily Shows
By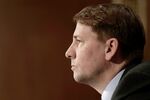 Financial regulators aren't exactly known for their comedic prowess, yet on Wednesday, Richard Cordray became the second leader of the Consumer Financial Protection Bureau to be a guest on the Daily Show. That's despite the fact that host Jon Stewart twice made a joke on Wednesday that he couldn't quite recall the agency's name.
Cordray became the bureau's director in 2011 in a recess appointment, taking over the reins from Elizabeth Warren, who conceived of the consumer agency and helped start it up as an "adviser." Warren was on the show in April 2011, and neither she nor Cordray were particularly hilarious. But still, the similarities and differences between the two performances are telling.
Both talked about making financial products more transparent, so consumers can make the best decisions for themselves. Warren said the agency wants to get rid of the "word barf" in consumer financial contracts, and Cordray talked about how the bureau was reining in the "goobleygook." But how they delivered their messages were quite different.
Cordray sat straight up in his seat and didn't take Stewart's bait to get riled up. Stewart would rail on—isn't it crazy that banks got bailouts and homeowners can't get mortgage reductions? Isn't it maddening that bankers aren't in jail?—and Cordray sat tall and calmly uttered a series of Uhnhuhs and Yeahs before launching into straight-forward, earnest answers, explaining why new mortgage reforms would help families and how enforcement actions aim to put money back in the pocket of consumers.
Warren instead physically leaned in to the interview, offering a spirited defense of the bureau. She painted the bureau's creation as an epic fight, a "high noon," between a status quo of painful boom-and-bust cycles and a reformed vision that protected the middle class. "Now the game is, lets just see if we can stick a knife in the ribs of this consumer agency," she argued.
While Warren's fiery passion was critical to fighting to create the new agency, it's Cordray's even-handed persona that has won him praise even from the industries that wish the CFPB didn't exist and that probably makes him the better person to run the bureau. Stewart ended his segment lovingly teasing Cordray. "You're like Elliot Ness," the prohibition enforcer, he joked. "I see it in ya. I see the fire. I see you with a baseball bat walking around the halls."
Before it's here, it's on the Bloomberg Terminal.
LEARN MORE