Your Mom Is Right: Everybody Loves Downton Abbey
By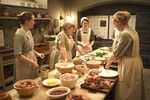 More than 10.2 million people tuned in to the season four première of Downton Abbey on Sunday night. Or put another way: Roughly 3 percent of the entire U.S. population spent a weekend evening watching a British period drama on PBS.
Americans are watching this season of Downton Abbey about three and a half months after it aired in Britain, where it averaged 11.8 million viewers per episode—that's 18.6 percent of the British population—and became the U.K.'s most watched drama. That it was a hit in its home country was expected. But in the U.S., the saga of a moneyed family in 1922 makes for unusual blockbuster TV fare. The most popular cable dramas have historically had strong male protagonists involved in some pretty reprehensible things—The Sopranos, The Wire, Breaking Bad—whereas Downton Abbey focuses increasingly on its relatively benign heroine, Mary Crawley, and, to a lesser extent, her younger sister, Edith, and Mary's maid, Anna. Edith and Anna become even more important this season—not to mention the fact that Matthew Crawley, the show's cute male lead, was killed off in season three—making the show even more female-centric than before.
In a way, Downton is becoming even more popular than those shows. Breaking Bad did get a record-breaking 10.3 million people to watch its last episode, but earlier last year its season première got only 5.9 million people, or 4.2 million fewer than Downton's.
Perhaps viewers have finally soured on all those antiheroes. At its heart, Downton Abbey is a classic soap opera filled with love triangles, failed marriages, untimely deaths, and even the occasional murder plot. It's not so much that 10.2 million Americans have suddenly become infatuated with the fate of Britain's landed gentry, or even well-mannered women. We just want to see if a certain someone is really going to do you-know-what to you-know-who. Then we'll tune in next week to find out what happens next.
Before it's here, it's on the Bloomberg Terminal.
LEARN MORE