business
Using a Long-Distance MBA to Build an Entrepreneurial Career
By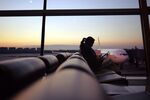 Later this month, Rooda AlNeama will pitch investors at a demo day for Turn8, a Dubai-based startup accelerator backed by shipping terminal operator DP World. While AlNeama helps her social media startup Crowd Analyzer build its business, she keeps one eye trained on the U.K., where she's completing an MBA at the University of Liverpool. For AlNeama, who's writing her dissertation on entrepreneurship in emerging markets, long-distance learning has been a good fit.
AlNeama studied at Carnegie Mellon University in her native Qatar as an undergraduate. After graduating in 2008 she worked for Shell in Dubai, then moved to the U.S., India, and Korea with her husband, a petroleum engineer. That globetrotting lifestyle made an on-campus MBA a tough proposition, so in 2012 she enrolled in the University of Liverpool's online MBA program.
Remote learning may be the closest proxy business school can offer for entrepreneurship. "You have to lead your own learning," she says. "If you're on campus, you can always ask for help from your peers. If you're working on a startup, you have to lead your own research, and I've had to do that here."
AlNeama hooked up with Egyptian entrepreneurs Ahmed Saad and Bahaa Galal at a startup event in Dubai. Along with a fourth co-founder, Mustafa Othman, the group is developing a social media analytics tool that distinguishes between different dialects of Arabic. The startup is working on deals with big brands, which would use to the tools to measure consumer sentiment, as well as government agencies.
One knock on the long-distance MBA: It doesn't offer the same opportunities to develop a professional network. The University of Liverpool's online program tries to compensate by holding regional events and by bringing the entire class to campus for graduation ceremonies. It's not the same as the traditional MBA experience. On the other hand, AlNeama probably wouldn't have met her co-founders if she'd been toiling away on campus.
Before it's here, it's on the Bloomberg Terminal.
LEARN MORE