U.K. House Prices to Extend Gain as Loan Access Eases
Scott Hamilton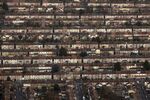 U.K. house prices will extend their advance this year as the economic recovery strengthens after a 5.7 percent increase in 2013, mortgage lender Halifax said.
Values rose 1.9 percent in the fourth quarter, with prices in December alone falling 0.6 percent, the first drop in 11 months, the unit of London-based Lloyds Banking Group Plc said in a statement on its website today. A separate Bank of England survey showed mortgage availability improved in the fourth quarter and is set to increase further.
"Mounting signs that the economic recovery is becoming firmly established, together with a predicted decline in unemployment, should further boost consumer confidence," said Martin Ellis, a housing economist at Halifax. "This will increase the likelihood that more people will consider buying a property in 2014, therefore supporting housing demand."
The mortgage lender said monthly price movements can be "volatile" and reiterated a forecast that home values will increase between 4 percent and 8 percent this year. The decline last month took the average price to 173,467 pounds ($284,800).
Mortgage approvals are at an almost six-year high amid a property-market revival in part fueled by government incentives. The surge in housing activity has prompted the BOE to end support for home loans under its Funding for Lending Scheme and officials have said they are monitoring risks of a bubble.
Bubble Risk
The pound maintained its gain against the dollar after the report was released and was trading at $1.6423 as of 9:53 a.m. London time, up 0.1 percent since yesterday. The yield on the benchmark 10-year U.K. government bond rose 1 basis point to 2.96 percent.
The drop in house prices last month "does not fundamentally change the story of a markedly improving housing market," said Howard Archer, an economist at IHS Global Insight in London. "There is a very real risk that a new housing bubble could really develop in 2014 -- especially as the strength in house prices is becoming widespread."
Lenders see a "significant increase" in mortgage availability this quarter, according to the BOE's quarterly Credit Conditions Survey. A measure of demand for home loans rose in the fourth quarter to the highest since the survey started in 2007.
Further evidence of the housing recovery emerged today as Persimmon Plc, the U.K.'s largest homebuilder by market value, said sales rose 25 percent in the second half. The shares climbed to the highest since June 2007.
Nationwide Building Society said on Jan. 3 that values increased 1.4 percent in December, taking their gain last year to 8.4 percent, the biggest annual increase since 2006. As well as the economy and the government's Help-to-Buy program, Nationwide said ultra-low borrowing costs were fueling demand.
The BOE's Monetary Policy Committee has pledged to keep its key interest rate at a record-low 0.5 percent at least until unemployment, now at 7.4 percent, falls to 7 percent. The MPC will leave the rate unchanged when it announces its next policy decision at noon in London tomorrow, according to a Bloomberg News survey.
Before it's here, it's on the Bloomberg Terminal.
LEARN MORE